Corporate CEOs earn 335 times more money than employees – report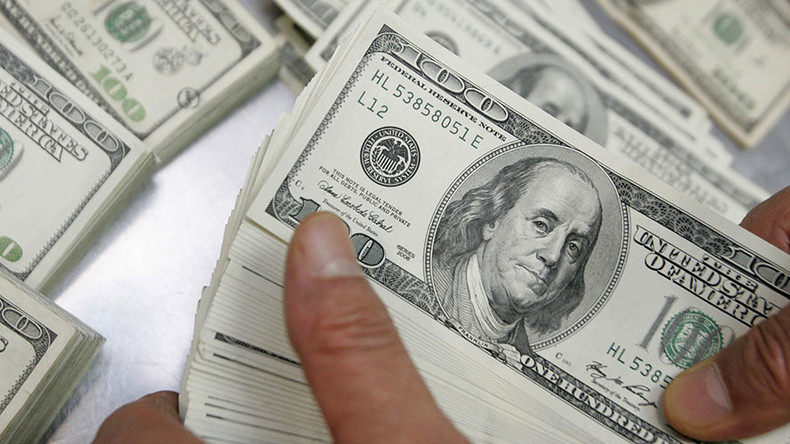 The head honchos of America's 500 largest companies earn 335 times more money than their employees, a new union report found, which also highlighted how corporations are offshoring jobs and hiding their money overseas to avoid taxes.
Intended to shine a light into the wide gap between corporate management and their employees, the report from the AFL-CIO federation of labor unions said that the average pay for workers in 2015 was under $37,000. By contrast, CEOs of S&P 500 Index companies earned an average of $12.4 million.
"The income inequality that exists in this country is a disgrace. We must stop Wall Street CEOs from continuing to profit on the backs of working people," AFL-CIO President Richard Trumka said in a statement.
Notably, the gap between CEOs and employees is actually down from the previous year, when those at the top of the ladder earned 373 times more than their workers.
According to Reuters, the AFL-CIO argues that a falling unemployment rate and small wage increases in the US aren't big enough factors to account for the colossal contrast in the numbers by themselves. Once adjusted for inflation, real wages for Americans have "barely budged" since 1964, according to a report from the Pew Research Center.
The study also listed the salaries of the 100 highest paid CEOs. Topping the list was Joe Kiani of the Masimo Corporation, a medical company, who earned more than $119 million last year. At the bottom was John Martin of Gilead Sciences, a biopharmaceutical, who took home almost $19 million.
One of the report's main targets was the corporate practice of moving jobs overseas and not paying taxes on offshore profits.
"Avoiding corporate income taxes is one way CEOs boost their companies' profits and thereby increase their own pay," the report stated. "This corporate tax avoidance reduces the amount of money that is available for public goods like roads and schools. As a result, our economy increasingly has become out of balance."
The top tax avoiders included Apple ($200 billion in repatriated profits), Pfizer ($193 billion), Microsoft ($108 billion), and General Electric ($104 billion).
One situation cited by the report occurred in 2015, when Irene Rosenfield, the CEO of Nabisco parent company Mondelez, asked workers in Illinois to take a 60 percent cut in pay and benefits in order to keep their jobs. When they refused, she decided to send more than 600 jobs to Mexico.
Rosenfield had received a $7 million raise just the previous year and earned more than $19 million in 2015.
"It seems that hard work doesn't matter anymore. This is the corporate attitude. And it used to be that places like Nabisco were proud places to work, but now workers like me are tossed to the curb despite years of dedication," said Mary Willis, who used to work for Nabisco in Chicago.
The AFL-CIO report comes as numerous companies and their executives have been criticized by Democratic candidates Hillary Clinton and Bernie Sanders. Clinton has said "something is wrong" when CEOs make so much more than workers, while Sanders has called the gap "immoral."
Presumptive Republican nominee Donald Trump has also joined the chorus. Last year, he specifically pointed to the situation with Nabisco, criticizing the company for moving jobs out of the US and pledging to "never eat another Oreo again."