'They should be shot!' Pastor takes stand on BLM protesters kneeling during US anthem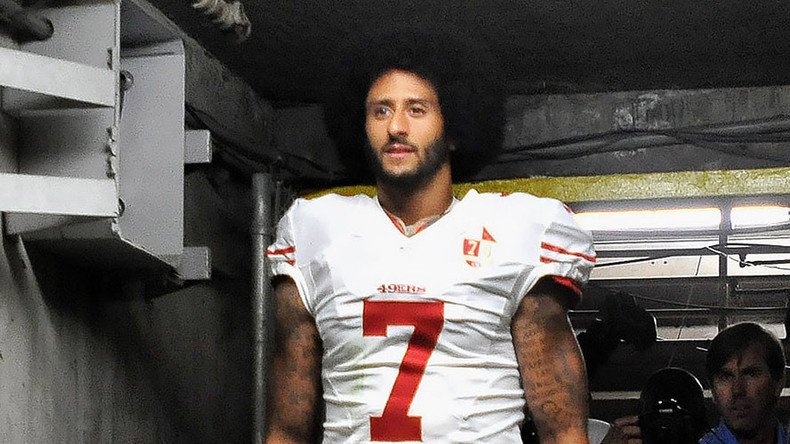 An Alabama pastor caused controversy at a local high school football game, saying players who don't stand for the US national anthem should be shot. His remarks come in the wake of US sports stars' protests against police brutality.
Pastor Allen Joyner made the remarks as he addressed the crowd at a Friday night football game at McKenzie High School in Butler County.
"If you don't want to stand for the national anthem, you can line up over there by the fence and let our military personnel take a few shots at you since they're taking shots for you," the announcer said at the game, according to Denise Crowley-Whitfield who posted what happened on Facebook, the Alabama-based publication AL.com reported.
His remarks led to "crazy cheering" from the stands, as the local fans seemed to endorse his statement. However, not everyone was as enthusiastic regarding Joyner's advice to those unwilling to stand during the national anthem.
"Patriotism should be a part of school events but threats of shooting people who aren't patriotic, even in jest, have no place at a school," Butler County Schools Superintendent Amy Bryan told AL.com. "Threats of violence are a violation of school policy and certainly not condoned by the school board."
The Sweet Home Baptist Church, of which Joyner is a member, supported the pastor's comments, saying they were "taken out of context and misquoted," in a post on Facebook. However, the church later deleted the post from the social media platform.
The debate about whether to stand while 'The Star-Spangled Banner' is being played was started by San Francisco 49ers quarterback Colin Kaepernick
"I am not going to stand up to show pride in a flag for a country that oppresses black people and people of color," he told nfl.com, after a match with the Green Bay Packers on August 27.
"To me, this is bigger than football and it would be selfish on my part to look the other way. There are bodies in the street and people getting paid leave and getting away with murder," he added.
On Sunday, four Miami Dolphins players knelt while the national anthem was being played before a match with the Seattle Seahawks.
"It's not about the symbology [sic] that people are mad about. It's the message and the people who are saying it," said Arian Foster, one of the players who refused to stand.
"Because if it's a knee that people are upset about, every Sunday people of faith take a knee to give thanks to their Lord and savior, whatever faith or whatever religion they are," he added speaking to reporters after the game.
However, the four players Michael Thomas, Jelani Jenkins, Kenny Stills and Foster received criticism from large sections of the US public for carrying out their protest on Sunday, which was the 15th anniversary of the 9/11 terrorist attacks on the USA.
"People say it is not the time to do it, then when is the time? It is never the time in someone else's eyes because they will always feel like it's good enough and it's not. And that is the beautiful thing about this country that if someone doesn't think that it is good enough they have their right and all we are doing is exercising that right," Foster concluded.
You can share this story on social media: