The Russians are coming! Twitter flips over Trump interview with Larry King on RT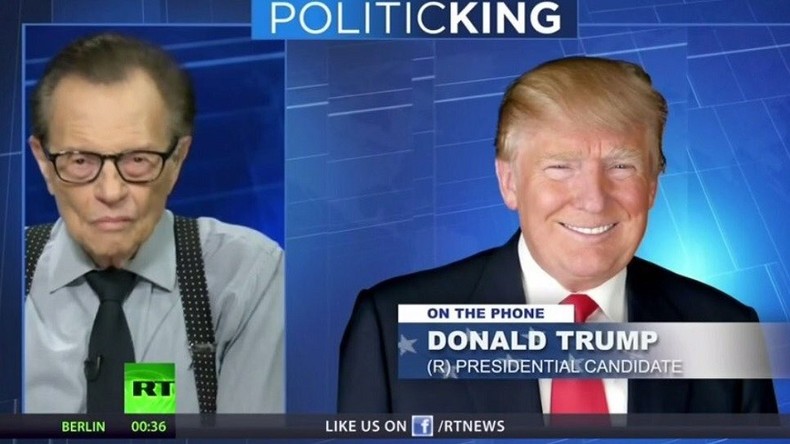 Social media clutched its collective pearls after Republican presidential nominee Donald Trump did a phone interview with Larry King that aired on RT America. It is, after all, more "proof" that the Russian government is meddling in the US election.
Shortly after the interview aired on Thursday night, "Russian TV" began trending on Twitter, thanks to the frenzy from much of the mainstream media.
Most of the tweets were less concerned about the content of the interview ‒ during which Trump and King discussed topics as the Iraq War, relations with Hillary Clinton, baseball, and of course the Democratic accusations that Russian hackers are meddling in US elections ‒ but on the mere fact that it aired on a network funded by that same government.
The interview, combined with Trump's repeated praise for Russian President Vladimir Putin, is "proof" that the two men are working together to overthrow the democratic process in the US, some people decided.
For all the freaking out, though, it seems like most people got trolled by the whole Russian thing and missed the actual newsy parts of the interview ‒ like the awkward moment when Trump went silent after King asked him how he really feels about Mexican immigrants.
There were a few people who noticed that King was asking the tough questions that the mainstream media isn't.
Trump's campaign, seeing the backlash, quickly distanced itself from RT.
"Mr. Trump recorded a short interview with Larry King for his podcast as a favor to Mr. King. What Larry King does with the interview content is up to him. We have nothing to do with it," Trump's press secretary Hope Hicks said in a statement.
That did not go over well in the Twitter-verse.
It also didn't go over with King or with Ora Media, which noted that there was no trickery in the invitation to Trump.
Ora, which is partially owned by King, produces 'PoliticKING with Larry King' and 'Larry King Now'– both of which have aired on RT America since 2013.
Others saw it as no big deal.
After all, as legal and media analyst Lionel of Lionel Media so succinctly put it, "He is Larry King!"