'Systemic breakdown': 16yo girl died in juvenile jail as staff did nothing, lawsuit claims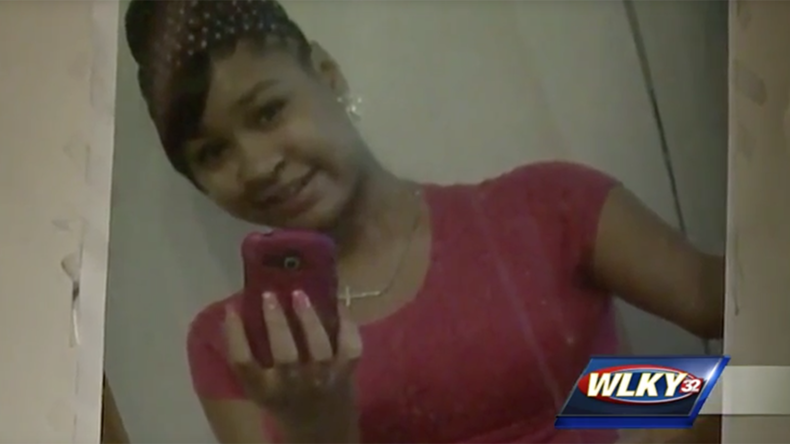 Gynnya McMillen gasped for air amid a seizure as a juvenile jail staffer watched and did nothing, and for the next 10 hours, staffers ignored her dead body in a "systemic breakdown" of duty, according to an state investigation revealed in a new lawsuit.
Arrested for dubious reasons and taken to a Kentucky juvenile detention center more than an hour from her home, McMillen, 16, was left to die on January 10 as several staff members at Lincoln Village Regional Juvenile Detention Center failed to perform basic duties to ensure the unresponsive teenager was safe, a federal lawsuit filed by her family on August 31 against the Kentucky Department of Juvenile Justice and Lincoln Village employees has alleged.
"Nobody wakes up fine every day for 16 years, and then goes to a detention center one day and 17 hours later randomly dies," McMillen's sister LaChe Simms, who is not involved in the lawsuit, told CBS News.
Six staff members were among those who lied about making 65 bed checks, ate her breakfast when she did not respond, and did not immediately perform CPR when they discovered she was not breathing, according to an internal investigation by the Department of Juvenile Justice made public via the lawsuit.
The "systemic breakdown led to staff possibly not noticing (Gynnya) in a medically stressed state," the investigation found, according to WDRB. Despite much evidence of such a "breakdown," the detention center's superintendent told investigators "it appears we did everything right."
'Her last gasps'
McMillen was arrested in Shelbyville, Kentucky, more than an hour from Lincoln Village, sometime late on January 9 or early on January 10. She was taken into custody as she was walking down the street after an altercation with her mother, who had called the police. Though neither she nor her mother would speak to police about the altercation, she was arrested and ordered by a state court judge to be held at Lincoln Village overnight until her court appointment on January 11.
Once at Lincoln Village, McMillen resisted orders to remove her hoodie so staff could check her for contraband. Two staffers used a Aikido technique to restrain her, according to the investigation, taking her to the ground out of view of a surveillance camera. She continued to struggle as more staff members became involved, but "staff did not harm her," according to Shelbyville police officer Austin Sasser.
"The youth was lowered to the floor face down, one arm remained raised with the elbow straight as part of the restraint," Mike Wynn, the Public Information Officer for the Kentucky Justice and Public Safety Cabinet, told CBS News. "Her hand and wrist are visible for a few moments, but then move below the counter. After a few moments, the hand and wrist are briefly visible again before they move back below the counter."
Sasser and five employees who witnessed or were involved in the four-minute restraint did not notice injury to McMillen following the incident. The restraint "was not a factor in her death," according to the investigation. She was also restrained in her cell for being "combative," court records cited by WDRB indicated.
"From approximately 6:22 am until 3:44 pm, Gynnya was left in the isolation cell 423 on a metal bed frame without a mattress pad or blanket while she balled herself up in her sweatshirt to stay warm," according to the lawsuit. At 3:44pm, McMillen was formally processed, and offered food, water, and the chance to shower, the lawsuit says. She was returned to her cell at 5:19pm.
About six hours later, a former Lincoln Village guard, Reginald Windham, heard coughing and witnessed McMillan seize in an "uncontrollable manner," the lawsuit says. For 18 seconds, he watched "her last gasps and dying breaths and final uncontrollable movements and seizure," the lawsuit claims. McMillen rolled onto her stomach with her left leg hanging off the bed, according to surveillance footage, then she rolled to her right side and never moved again, the investigation found.
Upon seeing McMillen gasping, Windham could have "in all likelihood saved the girl's life," the lawsuit says. Windham said he checked on the teen "to make sure she had not thrown up and was choking or something like that." He told investigators that McMillen did not indicate she was in distress, and that he believed she was sleeping. He said he checked on her two or three times "at most."
Windham and fellow former staffer Victor Holt are facing misdemeanor charges for falsifying bed checks on McMillen. They have pleaded not guilty, and their attorney has insisted they were following Lincoln Village protocol, though Holt "missed multiple checks, fabricated facility documents and violated facility policy and procedure," according to investigators. When Holt arrived at McMillen's cell at around 10am prior to her court appointment, he did not perform CPR when "he did finally realize (the teen) was in medical distress or deceased," the investigation found.
Staff inaction
Michael Price, assistant superintendent of Lincoln Village, told investigators that staff is expected to perform a "thoroughly documented" hourly wellness check, and that if a detainee does not move, "staff should go in the room and physically check to see if the resident is alive."
Staff did not monitor McMillen's breathing until 10am, when Holt arrived. Prior to that, at 6:30am, a staffer brought breakfast to the cell, but when McMillen did not respond, he "callously ate her breakfast" and lied about making a bed check, the lawsuit says. Holt then wrote that McMillen "declined breakfast -- refused to acknowledge staff."
Holt later arrived to tell McMillen she had a phone call. When she did not respond, Holt said, "I don't have time for this" and closed the door, a staffer told investigators. At 9:37am, Holt entered the cell again and used a water bottle to prod McMillen's body. He then attempted to shake her, but got no response. He left and reported that "resident was told to get up and change out for court and ignored staff."
At 9:55am, Holt and another staffer attempted to shake and move McMillen to wake her, but no one performed CPR. At about 10:00, a nurse came and eventually performed CPR.
While officials in charge of the facility told investigators that staff is required to make hourly checks, a spokeswoman for the Department of Juvenile Justice told WDRB that "staff is not to enter the room until wake up time unless the youth shows signs of distress" or needs medicine or a personal hygiene item.
"Youths are required by the American Correctional Association Guidelines to have eight hours of uninterrupted sleep," Stacy Floden said. "We make every effort to ensure that the youth is sleeping and in no apparent medical distress, the head isn't covered, and nothing is covering the neck or face. That's why we require that the head and neck be exposed. Even during hours when youth are awake, staff do not generally enter youth rooms unless necessary to avoid the risk of assault."
Cause of death
In March, Kentucky officials said that an analysis by the Mayo Clinic determined that McMillen had Inherited Long QT Syndrome, a genetic disorder that can cause cardiac arrhythmia, or an irregular heartbeat. An autopsy concluded that McMillan had died in her sleep from cardiac arrhythmia.
McMillen's sister, LaChe Simms, said she has doubts about the conclusion that the teenager died in her sleep.
"Seeing my sister in that casket, she didn't look at peace. She didn't look like she died in her sleep. It gave me a real uneasy feeling about what (officials) were saying," Simms told CBS News. "If you had a seizure and you're coughing, that's not dying in your sleep. It's not dying in your sleep when you wake up and choke for air."
While a nurse comes in to see #GynnyaMcMillen at 10 a.m., she does not begin CPR until 10:06, 30 minutes after staffers tried to wake teen

— Jason Riley (@JasonRileyWDRB) September 2, 2016
The internal investigation found that "had staff conducted their checks as required, they might have detected a medical issue with her and provided the proper medical assistance that may have prevented her death." Attorneys for McMillen's mother have cited experts on the condition who say that McMillen might have been saved had Windham intervened when he watched her struggle.
Windham told an investigator he regretted not acting.
"Looking back, he sees so many things that could have been done that could have prevented this from happening," the investigator wrote. "He agrees if he had done his bed checks and went into the cell to do the wellness check, he may have detected her condition early enough to have gotten her some medical attention."
Windham's attorney said his "client's personal opinions on the matter aren't really relevant," arguing that Windham nor anyone else at the facility knew of McMillen's heart condition.
Kentucky officials have refused to publicly release video from McMillen's time at Lincoln Village, citing criminal cases against Windham and Holt.
You can share this story on social media: