Trump proposes ending sequester, using military build-up to create jobs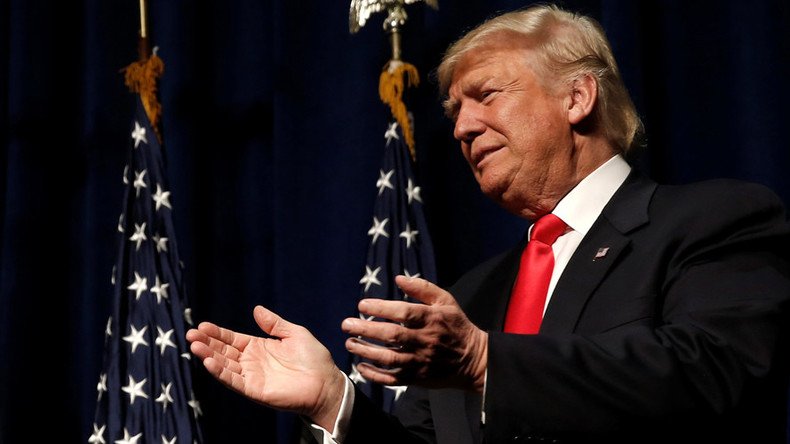 Donald Trump is looking to end defense spending cuts and allocate even more funds to the $600 billion-plus Pentagon budget. The billionaire businessman wants to bolster the military with new troops, ships, planes and submarines.
The Republican presidential hopeful announced his military plan in Pennsylvania on Wednesday, presenting a ten-point "Peace through strength" program in a speech to the Union League of Philadelphia.
"I will ask Congress to fully eliminate the defense sequester," Trump said, explaining that this would give the Department of Defense certainty about funding and allow better planning for the future – something often heard from the Pentagon.
"Without defense, we don't have a country," Trump added.
The Republican nominee laid out plans to increase active-duty US Army personnel to 540,000 troops, add 13 more battalions to the US Marine Corps, and expand the US Navy from 276 ships and submarines to 350.
He also pledged to ensure the US Air Force would have at least 1,200 fighter aircraft, the minimum necessary for its continuing missions according to the conservative Heritage Foundation.
"We will also seek to develop a state of the art missile defense system," Trump said. That effort would involve buying new destroyers capable of missile defense, but also modernizing the navy's aging Aegis cruiser fleet at a cost of $220 million apiece. This, the tycoon said, would translate into more jobs for Americans. The military modernization would be a "50-state effort."
Taking another stab at his rival for the White House, former Secretary of State Hillary Clinton, Trump pledged to enforce all classification laws for sensitive government documents, improve US cyber-warfare defenses and even "invest heavily in offensive cyber capabilities."
The biggest obstacle to Trump's plan is the sequestration, known as the Budget Control Act of 2011. Adopted over five year ago, the sequester set limits on government spending up until the fiscal year for 2021, with total cuts to the Department of Defense amounting to $1 billion over 10 years, according to the Center of Strategies and International Studies (CSIS).
Trump did say he would ask Congress to offset the Pentagon spending through cuts to government bureaucracy that "just gets in our way," while protecting Americans' hard-earned benefits.
Another source of funding would be NATO, where only five members are living up to the military spending requirement. Germany, South Korea, Saudi Arabia and Japan would also be asked to pay for the defense provided by the US, Trump said.
America's defense spending places it at the forefront of the list of the world's most militarized states, with a budget equal to that of the next 10 states combined.
"Our active-duty armed forces have shrunk from 2 million in 1991 to about 1.3 million today," Trump said in a speech in April. "The Navy has shrunk from over 500 ships to 272 ships during this same period of time. The Air Force is about one-third smaller than 1991. Pilots flying B-52s in combat missions today. These planes are older than virtually everybody in this room."
In his campaign video posted on YouTube in January, Trump was vowing to "make our Military so big, powerful and strong that nobody - absolutely nobody - will mess with us."
On Wednesday, Trump painted Clinton as "trigger-happy and unstable when it comes to war."
"Sometimes it has seemed like there wasn't a country in the Middle East that Hillary Clinton didn't want to invade, intervene or topple," Trump said, adding later, "Everywhere she got involved, things got worse."
You can share this story on social media: