Trump tells veterans he'll rebuild military, 'clean up' VA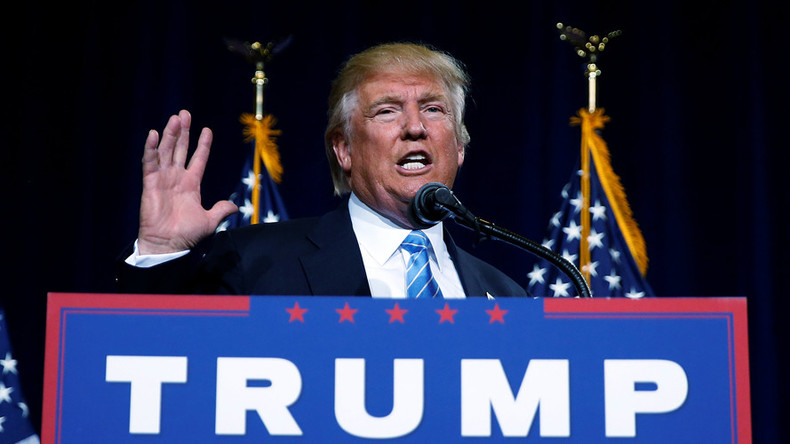 A day after Hillary Clinton spoke to the American Legion her rival Donald Trump addressed the veterans' organization, telling them he will be "uncompromising" in the defense of the US.
Discussing his foreign policy, Trump said he "will be uncompromising in the defense of the United States," and that he will work out a strategy to eliminate radical Islam in co-operation with the Gulf States.
He reiterated his idea of toughening immigration procedures promising to "change immigration screening procedures to help keep terrorists and extremists out of our country. That includes stopping the influx of Syrian refugees."
If elected president, Trump said, he would ensure the military have "the tools they need to defend that flag and to deter violence and aggression from our foreign adversaries."
"We will rebuild our depleted military, and pursue a state-of-the-art missile defense," Trump said. "We will do it based on those three famous words: Peace Through Strength," he added, referencing an old Roman phrase resurrected in the 1980s by President Ronald Reagan.
Trump said he would "make sure our soldiers, sailors, airmen and marines have the best equipment, training and tools in the world – and we will ensure that they have the best medical care in the world, both in service, and when they return home as civilians."
This bridged the gap to another topic – veteran affairs, a hot-button issue in US politics as of late, due to the funding, waste and healthcare scandals that have emerged during the second term of President Barack Obama.
Trump told the convention that under a 10-point reform plan, he would appoint a secretary for Veterans Affairs whose "personal mission will be to clean up the VA."
"The secretary's sole mandate will be to serve our veterans – not bureaucrats, not politicians, but our great veterans," Trump said. "I'm going to use every lawful authority to remove and discipline anyone who fails our veterans or breaches the public trust."
Trump also touched on his immigration policy, referring to his "wonderful meeting" with Mexican President Enrique Peña Nieto on Wednesday.
READ MORE: Trump in Mexico: Illegal immigration harms 'both countries,' no talk of who pays for 'the wall'
"I want to again thank him for his gracious hospitality, and express my belief that we can work together to accomplish great things for both of our countries," Trump said.
"We agreed in the meeting on the need to stop the illegal flow of guns, drugs, cash and people across the border and to take out the cartels," the Republican presidential nominee said. "We have to get rid of those cartels, our country is being poisoned."
"We will have an honest government and that includes an honest State Department, not pay-for-pay. She probably didn't mention that to you yesterday," Trump added, referring to the controversy dogging Clinton over foreign donations to her family's charity during her term as secretary of state.
READ MORE: 'Indispensable nation' – Hillary Clinton pitches American exceptionalism (VIDEO)
You can share this story on social media: