Hermine hits hard: Thousands of homes without power as 1st hurricane in decade lashes Florida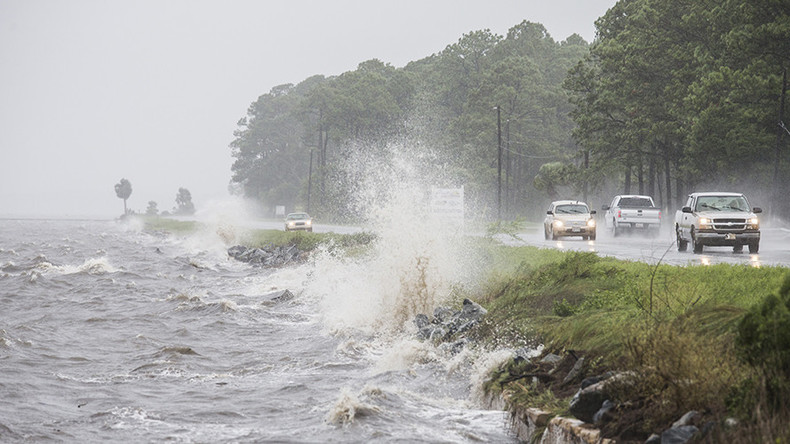 Hermine, a Category 1 hurricane, rocked Florida early Friday, bringing winds of 130kph and up to 12cm of rain in some areas.
Some 70,000 households in Tallahassee, the state capital, were left without power, Reuters reported, adding that thousands more households across the state were affected, too.
"It is a mess...we have high water in numerous places," Virgil Sandlin, the police chief in Cedar Key told the Weather Channel. "I was here in 1985 for Hurricane Elena and I don't recall anything this bad."
The National Hurricane Center warned that the storms may cause some 3 meters of flooding in some areas. The center also issued a tornado warning and predicted that the storm will dump 51cm of rain in some parts of the state.
"Hurricane Hermine is strengthening fast and it will impact the majority of our state," Florida Governor Rick Scott said. He told reported that the storm "is life-threatening."
"You can rebuild a home, you can rebuild property, you cannot rebuild a life," Scott said. "We are going to see a lot of flooding."
READ MORE: ISS catches 3 hurricanes on US doorstep, makes cool time-lapse video
Towns and cities are getting ready for the storm, preparing shelters and drinking water.
"If we get hit with a real storm head on, all the provisions you can make aren't going to matter out here," local resident Joe Burgess told Reuters. "It'd be pretty catastrophic."
Tallahassee resident Tom Duffy told AP that the storm has taken "dead aim," while another resident, Courtney Chason, added "I've never seen it this high, it's pretty damn crazy. I've been in this area for 30 years but I've never seen it like this."
On Friday morning, the hurricane was centered about 48km southeast of Tallahassee, weather.com website reported.
"Thunderstorms are now sprouting around the core circulation of Hermine, a sign that it will continue to gain strength before landfall," the website added.
Several schools in the state have already announced their closure on Thursday or Friday. Also officials said that main campus of Florida State University in Tallahassee will be closed from Thursday till Friday.
According to AccuWeather company that provides commercial weather forecasting services worldwide, Orlando, Melbourne, Jacksonville and Daytona Beach will be most hit by the tornado.
"People in the central and northern part of the Florida Peninsula and the eastern part of the Florida Panhandle should be prepared for tropical storm to minimal hurricane conditions with power outages, flooded roads and airline disruptions through Friday morning," AccuWeather said.
Hermine is the first powerful hurricane to strike Florida in 11 years. The previous one, Hurricane Wilma, a powerful Category 3 storm, struck the state in 2005.