ISS catches 3 hurricanes on US doorstep, makes cool time-lapse video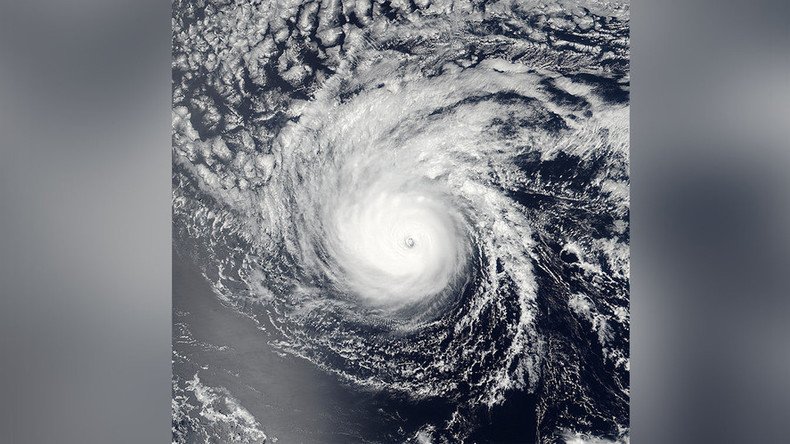 As two hurricanes and a tropical storm hover near the US, NASA has created a mindblowing time-lapse video which shows the true beauty of heavy winds and pouring rains from space.
Lester, Madeline and Gaston have targeted American coasts in recent days, making their ways around both sides – the Pacific and the Atlantic oceans.
The video, recorded from the International Space Station (ISS) more than 257 miles above the Earth, shows the eye of each storm surrounded by swirling white clouds.
Hurricane Lester, the first in the video, is still about 750 miles from Hilo, Hawaii. It continues to march to the west and is predicted to hit the island chain as early as Saturday, bringing heavy rains with it.
NASA shared an image that showed Lester's eye surrounded by powerful thunderstorms.
Hurricane Gaston , which was barreling towards Florida, is another major hurricane, making its way through the Atlantic.
According to NASA, it is moving towards the western Azores. Gaston did not arrive alone: It coincided with Tropical Storm Hermine, which has brought rains and winds to Florida, resulting in flooding in some parts.
Once a major hurricane, Madeline, the second in the video, was downgraded to tropical storm status on the evening of August 31, NASA said. It was passing just south of the Big Island of Hawaii with maximum sustained winds near 65mph (100 kph).
Madeline could be downgraded to the "Tropical Depression" category as it gradually becomes weaker. However, it has not yet given up: heavy rains hit parts of Hawaii Thursday as strong waves rolled over its shorelines.
You can share this story on social media: