9yo girl, 3 adults injured in quadruple Atlanta shooting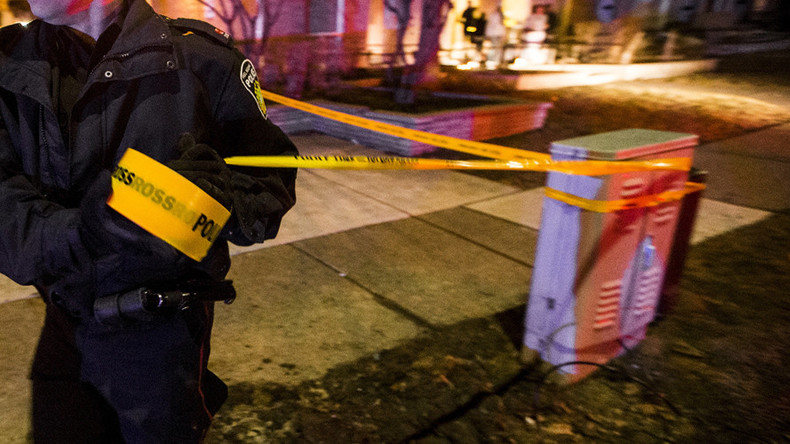 Police are investigating a quadruple shooting which left a nine-year-old girl and three adults injured in the city of Atlanta.
Neighbors in the Old Fourth Ward neighborhood alerted authorities after hearing more than a dozen gunshots at an apartment building on Peace Avenue at around 8pm local time on Tuesday, local media reported.
When police arrived at the scene, they found a nine-year-old girl who had been shot in the thigh. Two males were also shot and took themselves to hospital, investigators told Fox 5 Atlanta. A 20-year-old female was found at the apartment complex, grazed by a bullet.
A witness told local ABC affiliate WSB-TV that the mother of the nine-year-old girl picked her up and ran to Atlanta Medical Hospital after her daughter was shot.
Atlanta Police Major Paul Guerrucci said that it is believed all four of the victims were shot in the lower extremities.
All of the victims were conscious and alert when police arrived, according to Atlanta police spokesman Officer Lukasz Sajdak, as cited by the Atlanta Journal-Constitution.
Police found 15 shell casings from various weapons at the scene, and have launched an official investigation.
"It is a large crime scene. Motive has not been established. We are talking with individuals that have provided us some degree of information," Guerrucci said.
He went on to state that initial information has led investigators to believe someone "just started shooting" and that "others may have shot back."
Guerrucci said it's "too early to tell" if any of the people shot will be considered suspects.
All four of the victims are expected to survive their injuries.