Hospital bills covered for victims of Pulse nightclub shooting; first responders must pay for PTSD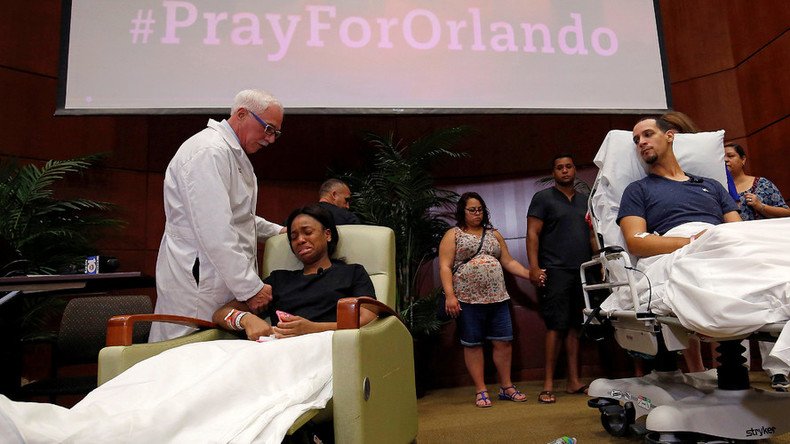 Victims of the Pulse nightclub shooting in Orlando, Florida won't have to pay for their medical care, the two hospitals that treated them announced. Yet first responders suffering psychological trauma from that night won't receive workers' compensation.
Orlando Regional Medical Center and Florida Hospital will not charge victims for their medical treatment after a gunman opened fire at Pulse, a gay nightclub, killing 49 and wounding 53 more. Most victims went to Orlando Regional, which treated 44 patients, nine of whom later died. One person remains hospitalized at the Level 1 trauma center that is half a mile from the club. A dozen victims went to Florida Hospital.
Orlando Health, the nonprofit healthcare network that operates Orlando Regional, will bill patients' insurance companies, but will cover the remaining "unreimbursed costs" ‒ expected to top $5 million ‒ through other resources, such as a victims fund set up by city officials, disability insurance and Florida's crime victim compensation program.
"Orlando Health has not sent any hospital or medical bills directly to Pulse patients and we don't intend to pursue reimbursement of medical costs from them," the company said in a statement Wednesday night. "We are exploring numerous options to help the victims of the Pulse nightclub tragedy address immediate and ongoing medical costs."
Florida Hospital, meanwhile, will not charge the insurance companies, nor will it bill for any follow-up surgeries that survivors may need. The bills so far have totaled more than $525,000.
"It was incredible to see how our community came together in the wake of the senseless Pulse shooting," Daryl Tol, president and chief executive of Florida Hospital and Adventist Health System's Central Florida Region, said in a statement. "We hope this gesture can add to the heart and goodwill that defines Orlando."
The announcements come as a relief to many survivors.
"I was so worried because I can't afford any of that," Mario Lopez, 34, told the Orlando Sentinel. The uninsured man was grazed by a bullet and had fragments explode into the left side of his body. He also split his elbow after falling on a shard of glass. The potential bill for his seven-hour hospital visit was $20,000. "It's a huge relief."
The help the two hospitals are offering victims stands in stark contrast to what first responders are going through, however.
Officer Gerry Realin, a 12-year veteran of the Orlando Police Department, was one of seven members of the HAZMAT team tasked with removing the dead bodies from the nightclub amid the eerie sound of victims' cell phones ringing and ringing.
He is still haunted by the smell of death and by images of "all the red," Realin told the Orlando Sentinel in mid-August. He has been diagnosed with post-traumatic stress disorder (PTSD) and hypertension, and is currently under the care of a psychologist, a psychiatrist and a cardiologist, according to a GoFundMe page set up for him.
"The man that left my house that morning did not come back to me that night," Jessica Realin, the officer's wife, told the Orlando Sentinel. "He's still not back."
In the two weeks after the shooting, Realin returned to work, but often called in sick or left early, burning through his vacation and sick days before he was placed on paid leave. He's filed for workers' compensation, hoping to have that time reinstated.
However, Florida law ‒ like in 44 other states ‒ does not recognize PTSD as a work-related injury for first responders if it is not related to a physical injury.
For a mental or nervous injury arising out of the employment unaccompanied by a physical injury involving a first responder, only medical benefits under s. 440.13 shall be payable for the mental or nervous injury. However, payment of indemnity as provided in s. 440.15 may not be made unless a physical injury arising out of injury as a first responder accompanies the mental or nervous injury.
"The law has a very specific carve-out and, unfortunately, Officer Realin falls squarely within that carve-out," his attorney, Paolo Longo, told WFTV.
The family and their lawyers are working to change the law, and possibly to lobby for a federal bill to require psychological injuries be covered by workers' comp. Jessica Realin has contacted more than 30 state legislators, she told the New York Daily News. One responded that she should take the problem up with the health department.
"Why are we going to wait for a tragedy to happen to cover our first responders?" she said.


You can share this story on social media: