Hate crimes against LGBT people on the rise – advocacy groups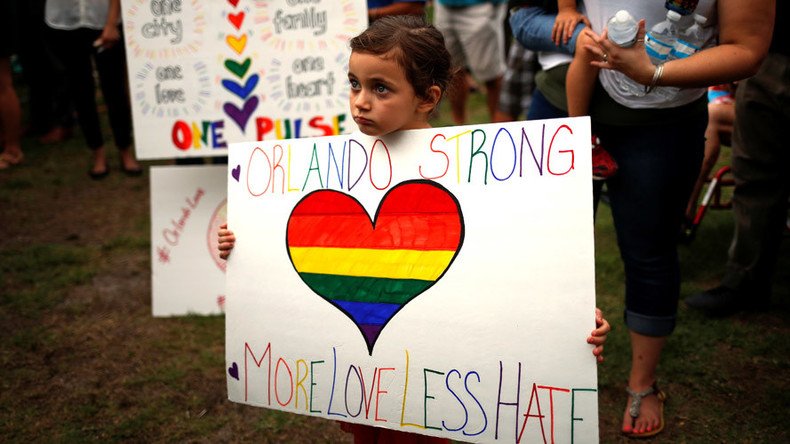 Lesbians, gays, bisexuals and transgenders are at higher risk of being victims of hate crimes than any other group, an analysis of FBI data shows. As tolerance and acceptance grow, it seems that threats of violence from society's fringes do as well.
Filling out the top three most attacked minority groups, members of the LGBT community were the target of hate crimes due to their sexual orientation more often than Jews were for their identity, and at double the rate African-Americans were assaulted because of their race, the New York Times reported on Thursday.
The FBI recorded a total of 5,462 single-bias hate crimes in 2014. The data shows that, while 47 percent were racially motivated, 18.6 percent were driven by hostility against the victim's perceived sexual orientation.
The mass slaying in Orlando on Sunday that left 49 dead and 53 wounded inside a gay nightclub has been called a terrorist attack and a hate crime, but not always both. In fact, Senate Majority Leader Mitch McConnell (R-Kentucky) did not even allude to gays being targeted, while Representative Pete Sessions (R-Texas) went as far as to say that Pulse was not a gay establishment.
Nevertheless, awareness of attacks on LGBT Americans seems to be rising, as most Americans referred to the Orlando shooting as both a terrorist attack and a hate crime in a CBS News poll.
Following a Supreme Court ruling in favor of gay marriage last year, it is evident that the broader culture is embracing sexual orientations that were previously widely condemned. However, with legislative or judicial leaps forward, there is often a backlash, and in this case it is difficult to comprehensively document. Limited data clearly shows that hate-driven violence against LGBT people is a problem, but how and where to deploy resources to prevent such crimes is a difficult task.
The Associated Press reported this month that hate crimes are severely underreported, with thousands of law enforcement agencies not relaying a single such instance to the FBI from 2009 to 2014.
Crimes go unreported by victims far too often because they feel ashamed or fear that going to the authorities will make matters worse, and this may especially apply to LGBT people.
The National Coalition of Anti-Violence Programs analyzed 24 homicides motivated by the victim's sexual orientation perpetrated between 2012 and 2015 in 12 states and found that 67 percent of those killed were transgender or gender non-conforming, while 54 percent were transgender women of color.
The coalition also found that 29 percent, or seven of the homicides, involved cisgender men, six white and one black. Cisgender means a person identifies with the gender corresponding to their sexual organs.
In another report, the Human Rights Campaign found that more transgender people were killed in 2015 than in any prior year.
You can share this story on social media: