Ban hate-crime convicts from buying guns, senator says in wake of Orlando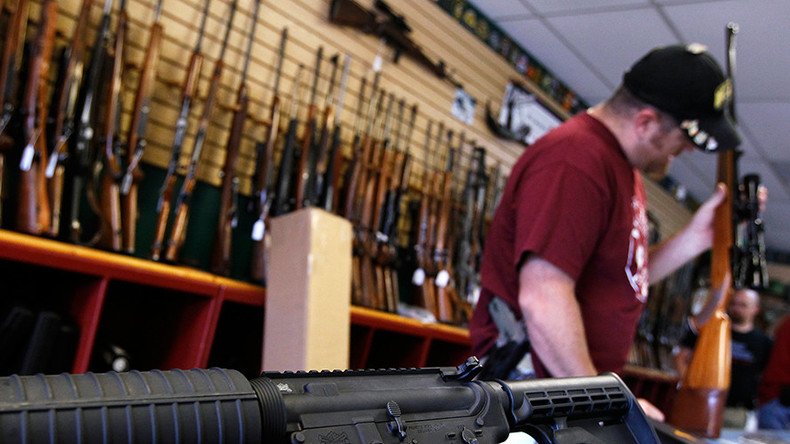 The first piece of legislation introduced on the federal level after the mass shooting in Orlando, Florida, would bar anyone convicted of a misdemeanor hate crime from buying a firearm.
US Senator Bob Casey (D-Pennsylvania) introduced the Hate Crime Prevention Act following the mass shooting early Sunday that left at least 49 dead and dozens more wounded at a popular gay nightclub in Orlando, Florida.
READ MORE: Mass shooting at Orlando gay nightclub (Live Updates)

The legislation would bar anyone convicted of a misdemeanor-level federal or state hate crime from purchasing, possessing, or shipping a firearm. The bill would also pertain to "anyone reasonably suspected to be guilty of a misdemeanor hate crime."
The bill defines a hate crime as an action motivated by race, color, religion, national origin, gender, sexual orientation, gender identity or disability.
"If you have proven you will commit criminal acts based on hate, you absolutely should not have access to a gun. It's common sense," Casey said in a news release.
It's time for Congress to finally act on gun violence & ban military-style weapons, limit clip size & require background checks on all sales

— Senator Bob Casey (@SenBobCasey) June 12, 2016
Minnesota, New Jersey and Oregon are the only states that currently prohibit those convicted of misdemeanor hate crimes from owning guns, according to The Trace. Casey's bill would represent a significant expansion of such a ban.
A felony hate-crime conviction, or any felony, automatically bars one from owning a firearm or ammunition unless that conviction is expunged.
In February, similar legislation was introduced in the US House by Rep. David Cicilline (D-Rhode Island).
"If you threaten a black family because of their race, you shouldn't be allowed to buy a gun," Cicilline said in February. "If you paint a swastika on the door of a synagogue, you shouldn't be allowed to buy a gun. If you beat a gay person because they're gay, you shouldn't be allowed to buy a gun."
While Casey's legislation seeks to renew attention on gun-rights restrictions, recent legislative and legal efforts have tilted on the side of restoring gun rights, especially for those with non-violent convictions.
In June last year, the Republican-led US House approved an amendment to a Department of Justice appropriations bill that would have restored gun rights to felons convicted of non-violent crimes. The US Senate did not offer a similar provision, killing the effort.
States like Missouri are also wrangling with the issue. A state constitutional amendment declaring "inalienable" the right to bear arms was approved by Missouri voters in 2014, triggering a legal case that reached the state's highest court. In February, the Missouri Supreme Court ruled that the constitutional amendment does not allow nonviolent felons to carry firearms. A bill introduced in the state House weeks later called for offering former convicted felons a path to restoring their gun-ownership rights, but the legislation never received a floor vote.
In March, Nevada businessman and current congressional candidate Barry Michaels, who was convicted of and served time in prison for non-violent felonies in the 1990s, sued the federal government calling for a restoration of his right to own firearms.
"[T]here is no empirical data available or any rational basis to suggest that prohibiting a non-violent felon from possessing a firearm would do anything to prevent him/her from committing another non-violent crime, nor is there anything…to suggest otherwise," Michaels argued in his lawsuit. "The Second Amendment contains no express or implied limitation on the right of any citizen, including felons, to keep and bear arms."
More than 6,400 hate crimes occurred in the US in 2014, according to FBI statistics, and nearly 6,000 such crimes were committed in 2013, though there is no requirement that state and local law enforcement must report hate-crime data to the federal government. An average of around 259,000 hate crimes occur each year, according to data from the National Crime Victimization Survey cited by Casey.
You can share this story on social media: