Louisiana flooding: 8 dead, 30k rescued amid '1,000-year' rain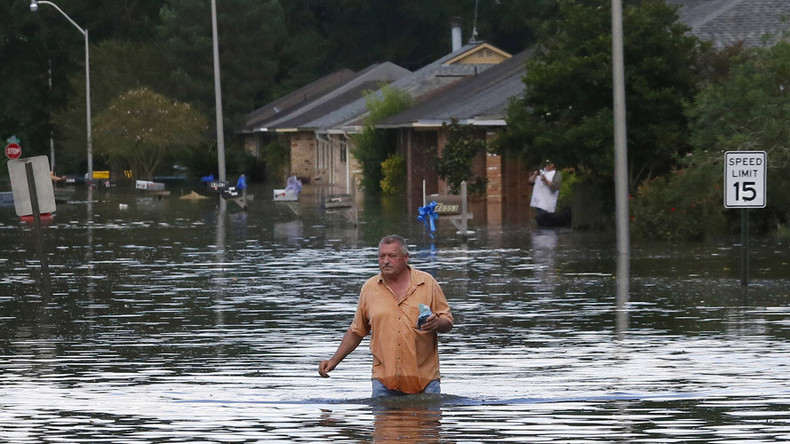 Southeastern Louisiana continues to deal with the fallout of "1,000-year" rain that has claimed at least eight lives. Twelve parishes are now eligible for federal aid, as state police say about 30,000 people have been rescued from floodwaters.
Law enforcement and the National Guard have rescued 30,000 people amid flooding triggered by record two-day rainfall that ended early Saturday morning, Louisiana State Police reported Tuesday. The plodding low-pressure weather pattern dropped as much as two feet of rain in areas such as East Baton Rouge and Livingston, according to the the Times-Picayune.
Scattered rain showers and thunderstorms are in the forecast for southeast Louisiana on Tuesday with high temperatures approaching 100 degrees Fahrenheit (37 Celsius).
In Livingston Parish, home of around 138,000 people, authorities said about 75 percent of homes have been destroyed by flooding, according to the Associated Press.
Meanwhile, the Louisiana Department of Health has confirmed an increase in the death toll from rain and ensuing flooding to eight. Four of those deaths occurred in East Baton Rouge Parish.
More than 8,000 people spent Monday night in a shelter, Governor John Bel Edwards said during a news conference Tuesday.
"Nobody is going to be forgotten, and we are going to be working around the clock and doing everything possible to render aid," Edwards said.
Flood waters in some areas are receding, while areas such as St. Amant and Gonzales remain underwater. Emergency officials are continuing search and rescue efforts, Edwards said.
One day after President Barack Obama announced that flooded areas are eligible for federal disaster aid, the amount of parishes in the state that can apply for such aid increased from four to 12, and additional parishes may be added to the list. The current parishes eligible are Tangipahoa, St. Helena, East Baton Rouge, Livingston, East Feliciana, Ascension, Acadia, Iberia, Lafayette, Pointe Coupee, St. Landry and Vermilion.
As of Monday, nearly 40,000 people had filed for disaster aid, according to the Times-Picayune.
As of Tuesday morning, around 15,000 customers of energy supplier Entergy were without power, according to WAFB, while supplier DEMCO said about 18,000 of its customers were without power.
The amount of rain that fell in the most heavily effected areas had about a 0.1 percent chance of occurring in any given year, leading meteorologists with the Lower Mississippi River Forecast Center to call it a "1,000-year rain." Other areas have received rainfall that had about a 1 percent chance of occurring, or a "100-year rain."
"The intense rainfall rates were probably well in excess of 3 inches an hour for some spots Thursday night and Friday morning, and that overwhelmed local drainage, causing flash flooding," Frank Revitte, warning coordination meteorologist with the National Weather Service in Slidell, told the Times-Picayune. "Then all that water has to flow into larger rivers — the Amite, Comite, and Tangipahoa — and that flows down to lakes Pontchartrain and Maurepas, and to the Pearl River for the Bogue Chitto."
Meteorologists said that storms over Florida traveled along the northern Gulf Coast as opposed to falling off into the Gulf of Mexico and forming a tropical depression. Storms followed the coast but never reached conditions of a tropical cyclone.
"Where this one fell short was it didn't originate over tropical to subtropical waters,"said James Franklin, chief of forecast operations at the National Hurricane Center. "Where it looked closest to being a tropical depression, on Friday, the center was well inland. So whatever processes were occurring were not operating from the extraction of heat energy from the ocean, which is the driving process of a cyclone."
Tapping into deep tropical moisture, the storm continued moving north and west along the coast but lacked enough wind to provide much movement.
"What was critical for me was its very slow forward speed," said Revitte. "It just didn't move a lot."