5 dead, 20,000 rescued: Disaster declared for flood-ravaged Louisiana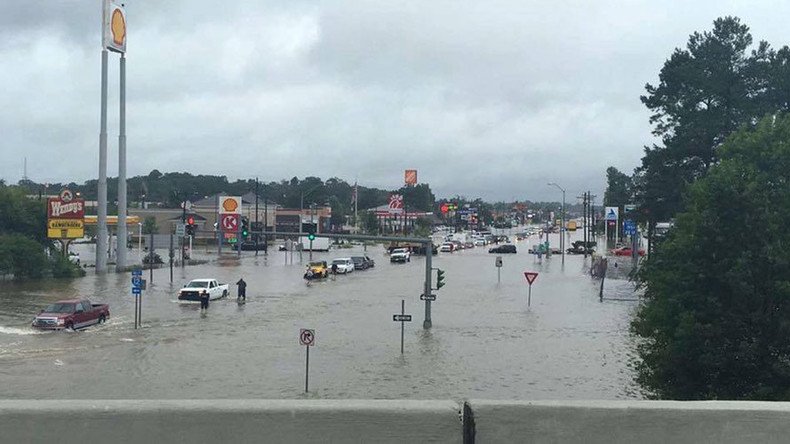 US President Barack Obama has signed a disaster declaration for flooded Louisiana, where at least five people have died and emergency workers have had to rescue over 20,000 people.
On Sunday, a major disaster was declared in the state's hardest-hit areas, including East Baton Rouge, Livingston, St. Helena and Tangipahoa. Obama's move freed up federal funding, which can now be used to provide additional emergency aid.
The death toll from the disaster climbed to five on Sunday when an emergency crew discovered the body of a man who had reportedly been swept away in the water on Friday, said Ronda Durbin, a spokeswoman for Tangipahoa Parish, as quoted by Reuters.
In addition, the body of a woman was recovered from a submerged vehicle, Durbin added.

So far, over 20,000 people have been rescued from flooded homes, Governor John Bel Edwards said on Sunday.
Officials warn that the danger has not yet passed, as more rain is expected.

"It's not over," Edwards said. "The water's going to rise in many areas. It's no time to let the guard down."
Edwards also declared a state of emergency, describing the floods as "unprecedented" and "historic."

The flooding has been triggered by heavy rainfall that started in Louisiana on Friday, producing 6 to 10 inches (15-25 cm) of precipitation in the southeastern parts of the state, the National Weather Service reported.

The number of homes that have been damaged is still unclear, but Edwards has stating that it could be "in the thousands."
READ MORE: 'We're coming!': Baton Rouge rescuers race to woman & dog drowning in submerged car (VIDEO)
You can share this story on social media: