'We're coming!': Baton Rouge rescuers race to woman & dog drowning in submerged car (VIDEO)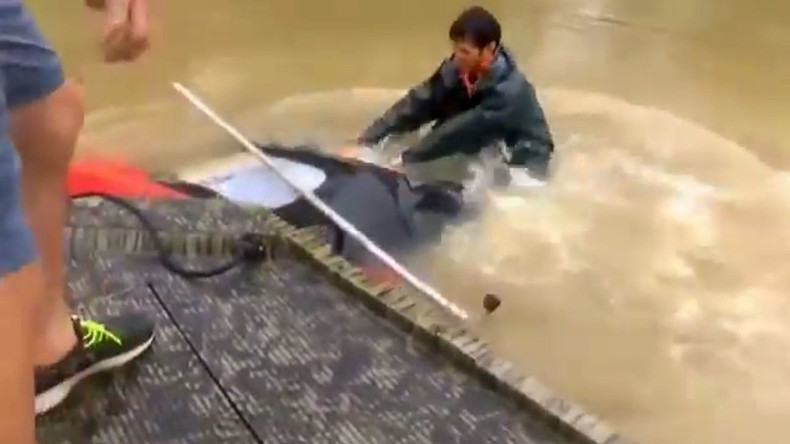 A driver and her pet were rescued just in the nick of time as their submerged car rapidly sank in Louisiana floodwaters.
The floods, which have killed at least three people, are the result of torrential downpours that continue to batter parts of the southern US state.
The dramatic and highly dangerous rescue was captured in a video that shows the moment three men pull up in a boat to save the woman from drowning in the Baton Rouge floods.
READ MORE: Drastic flooding kills 2, leaves 2 injured, Southern states brace for more heavy rain (PHOTOS)
In the footage, the woman can be heard appealing for help as two-thirds of her convertible is already submerged.
"Oh my God, I'm drowning," the woman cries from inside the sinking car.
"We're coming, we're coming," a rescuer calls back.
Once reaching the vehicle, the men unsuccessfully attempt to break the car window as the vehicle continues to sink.
Finally, one of the rescuers, David Phung, jumps into the water and tears through the fabric of the convertible's roof to pull the woman to safety as the car finally goes fully under.
READ MORE: Whirling twister strikes Manila as heavy rain swamps Filipino capital (VIDEOS, PHOTOS)
They were not out of the deep end yet, however, as the woman's pet dog was still inside the car.
"Get my dog, get my dog," she urges her rescuer.
Within seconds, the brave man dives back under the water to the to pull the pooch out of the now fully-submerged vehicle, before all three swim to safety.
Louisiana Governor John Bel Edwards has called the flooding a "major disaster" as record water levels continue to affect homes and roads in the region. Dozens of emergency shelters have been opened to help local residents forced from - or unable to reach - their homes.
A flood warning remains in place in southeastern Louisiana and further rain is expected in the area Sunday.
You can share this story on social media: