Whirling twister strikes Manila as heavy rain swamps Filipino capital (VIDEOS, PHOTOS)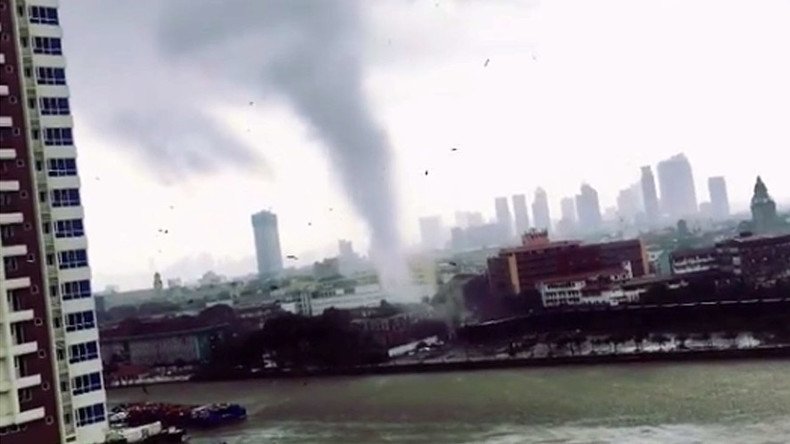 A tornado has reportedly made landfall in the Philippines as severe monsoon flooding that has already killed at least five people continues to threaten the island's capital Manila.
Torrential rainfall in recent days has plagued an area known as Metro Manila, which is home to more than 12 million people and a number of the nation's major cities.
Five people have been killed and thousands forced to leave their homes due to the storms, so far.
The Marikina Public Information Office, which serves a city west of Manila, released a statement on Sunday warning residents to stay alert and follow upcoming weather advisories.
The office states that "2,200 families have been adversely affected" by the relentless downpours so far, while reminding parents that all schools will be closed until at least Tuesday.
Dramatic images of a twister forming above the capital on Sunday evening sparked great concern across social media, although there have been no reports of any injuries yet.
Reports from the Philippine Star suggest the tornado was whipped up slowly by strong winds coming in from across Manila Bay, a busy shipping zone along the country's west coast.
A timelapse video of the tornado shows it swirling around the city boundaries, picking up debris as it passes a number of high-rise buildings.
Meanwhile, photos purportedly taken after the twister passed through appear to show properties that have been de-roofed by the storm.
The impact of the Manila Metro deluge has worsened since the Marikina River burst its banks. Local authorities say residents should plan for more rainfall over the next couple of days.
"We are expecting more low-lying areas to experience flooding," Romina Marasigan, a spokesperson for the city's disaster management council told AFP.
"Those who are already in evacuation centers should stay there until the weather improves."
You can share this story on social media: