Drastic flooding kills 2, leaves 2 injured, Southern states brace for more heavy rain (PHOTOS)
Published time: 13 Aug, 2016 03:50
Edited time: 15 Aug, 2016 13:43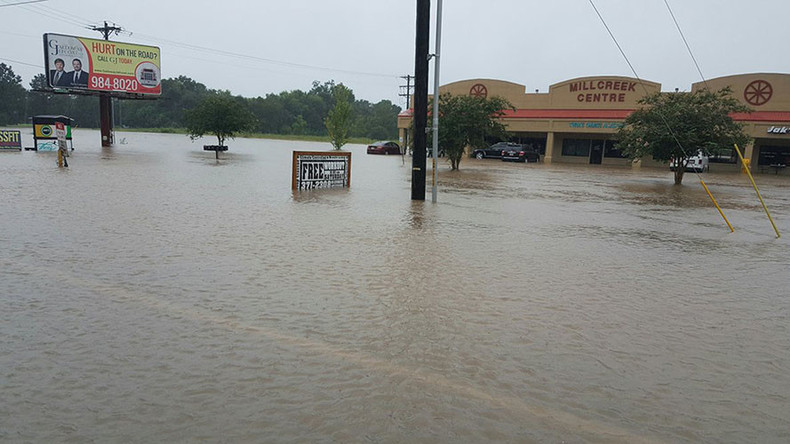 Ferocious flooding has killed at least two people and left another two injured in Louisiana and Mississippi as the states endure severe flooding. Major roads and houses are under water, prompting the evacuation of scores of residents.
One of the victims is a 68-year-old man of Louisiana drowned outside his flooded trailer as he tried to escape. He lived about 15 miles north of Baton Rouge and was reportedly watching a TV when water started coming up.
His roommate Vernon Drummond told WAFB that the man slipped and fell when they tried to evacuate.
"Me and my son and another guy tried to get him but it was too late," Drummond said.
Local officials have identified the man as William Mayfield. Drummond told reporters that Mayfield was coming from Los Angeles and did not have a family in the area.
The second fatality was reported at St. Helena Parish, some 40 miles away from Baton Rouge. The body of an unidentified man was recovered from a pickup truck that had been swept off a highway near the town of Greensburg, which was completely cut off by water.
State Fire Marshal H. "Butch" Browning has later confirmed that the man in his 50s was found inside a marooned Chevrolet pickup truck about 7 p.m. Friday, according to AP.
The victim's name has not yet been released, but officials say that he is believed to be from the area.
Simultaneously, in Tangipahoa, northeast of Baton Rouge, there was a search operation for another man, swept away in his car along with his son, who has been located.
"You just hope for the best," Police Chief Darrell Martin told CNN.
Rivers in southeast Louisiana and southern Mississippi have been quickly rising above their banks, forcing more than 100 people to evacuate to safety.
"I'm already seeing housing taking on water. If we get much more rain, we're going to have quite a few homes flooded," Sheriff Daniel Edwards of Tangipahoa Parish told Reuters.
Many counties have been cut off as major roads have been shut down due to flooding.
Gov. John Bel Edwards has declared a state of emergency for the entire state as heavy rain is predicted to continue into the weekend and a flood watch remains in effect through Sunday morning across most of south Louisiana.
In Mississippi, where two people have been reported injured in Harrison County, a flash flood watch is to remain in effect through Saturday morning.
Two counties, Pike and Amite, have been endured flash and river flooding after being hit with more than 10 inches of rain since midnight, Mississippi Emergency Management Agency said.
Amtrak has halted its southbound train from Chicago to New Orleans due to water on the tracks near Osyka.