Louisiana parishes launch court battles against oil companies as contamination spreads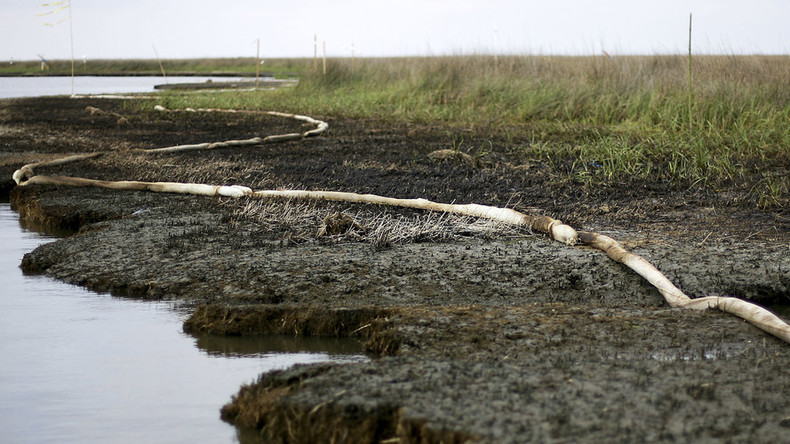 Amid three oil spills along the Louisiana coast in two weeks, the state's Vermilion Parish decided to join three other local governments that are suing oil and gas companies for damage done during drilling operations.
In late July, Vermilion Parish announced it was suing 49 oil and gas companies for violating regulatory and permitting guidelines while instigating alleged land loss via marsh erosion, radioactive water discharge, and salt water intrusion into local ecosystems.
"There were certain requirements that were placed by the issuance of permits that required operators, those operating in the oil and gas industry, to clean up the sites once the operations were completed, to clean up, to restore the sites, to replant vegetation in areas that vegetation had been compromised," said Keith Stutes, Louisiana's 15th Judicial District Attorney, according to KLFY. "It's those types of coastal claims that are the object of this lawsuit."
Vermilion joined Cameron, Jefferson, and Plaquemines parishes along the state's Gulf Coast that have filed lawsuits alleging that oil and natural gas drilling has caused major land loss and other damages along coastal waters. If the parishes are successful, monetary awards will be directed to coastal restoration.
In ten days during late July and early August, nearly 10,000 gallons of crude oil were spilled along the coast, two of which occurred in Plaquemines Parish and one at the mouth of the Mississippi River. The US Coast Guard is investigating the cause of the spills.
Oil spills along Louisiana's coast continue at a clip of about 1,500 per year, according to the Louisiana Oil Spill coordinator's office. Those spills approximate 20 percent of all oil spills in the US, at an average of about 330,000 gallons per year in the state.
"There's no question the damage it does, and all of the animals in the area, there's no way they're not impacted," DeSmogBlog investigative journalist Julie Dermansky told RT America. "You can imagine the oil that sinks, it will coat the bottom that area."
Vermilion added its name to the roster of parishes as major politicians like Governor John Bel Edwards and Attorney General Jeff Landry have also joined efforts at striking back at the oil and gas industry. In April, Edwards announced his administration was intervening in dozens of lawsuits over coastal damages related to drilling and industry development. This was a break from Edwards' predecessor, Bobby Jindal, who worked to shield the industry from litigation.
"The administration's participation means that all of the coastal stakeholders are now at the table, and I look forward to working with the attorney general and the parishes to bring this matter to a resolution," Edwards said in April, adding that the oil and gas industry's importance to the state should require them to "follow the law and meet their obligations."
Landry, however, has criticized Vermilion's lawsuit, calling it "superfluous litigation" and could create "a situation where multiple courts rule on the same issues will result in inconsistencies, conflicts and confusion."
Speaking for an industry that employs as many as 300,000 people in the state, Louisiana Oil and Gas Association President Don Briggs has called the suits "shortsighted" and that litigation "cannot and will not be a funding mechanism for state or local government budgets."
"Over the years, oil and gas producers have invested billions in jobs, infrastructure and environmental sustainability projects across the state. Many of those investments are concentrated in Vermilion Parish," Briggs said of the Vermilion lawsuit.
"That's why it is so disheartening that the district attorney and his trial lawyer friends have chosen to put the parish on such a dangerous path, ignoring the fact that this misguided effort could have significant economic consequences for many, many workers across the parish who are directly and indirectly supported by the industry."
Based on the various lawsuits targeting industry, oil and gas drilling is estimated to be at least party responsible for the loss of 1,900 square miles of state coastline since the 1930s. In May, industry executives refused to agree with Governor Edwards on a settlement over the mounting lawsuits.
"The factual basis [for drilling's impact on the coast] is terribly strong: If I were a plaintiffs' counsel, I'd put on a five-day slide show narrated by geologists and hydrologists and wetlands scientists, and it would be devastating," Oliver Houck, an environmental law professor at Tulane University, told the Associated Press.
The BP oil spill in 2010 that leaked an estimated 4.09 million barrels of oil into coastal waters, as well as devastation wrought by Hurricane Katrina in 2005 that highlighted long-term ecological damage in Louisiana, have triggered renewed efforts to hold the drilling industry responsible for damages, experts have said.
"It's absolutely new," pollster Bernie Pinsonat told AP. "The oil companies are taking it seriously because you're talking about billions and billions of dollars."
You can share this story on social media: