TV host John McLaughlin has died aged 89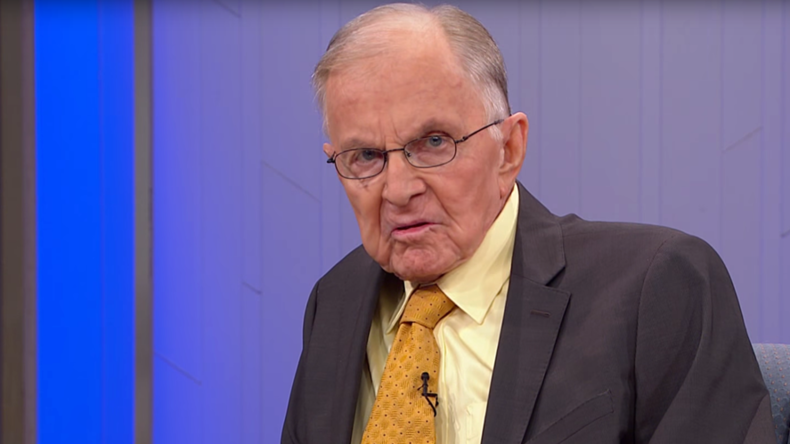 Conservative icon John McLaughlin, longtime host of the "The McLaughlin Group," has died at the age of 89.
McLaughlin's death was announced via the TV show's Facebook page on Tuesday.
"As a former jesuit priest, teacher, pundit and news host, John touched many lives," the Facebook post reads. "For 34 years, The McLaughlin Group informed millions of Americans. Now he has said bye bye for the last time, to rejoin his beloved dog, Oliver, in heaven."
The answer is... He will be missed. RT @sethmeyers: RIP John McLaughlin. My parents made us watch him every week...

— Greg Berlanti (@GBerlanti) August 16, 2016
McLaughlin was absent from the host's chair during his eponymous weekly TV program for the first time in 34 years this weekend due to health concerns.
Viewers of "The McLaughlin Group" did get to hear him during one of his trademark voiceovers, albeit with a voice weaker than his usual bombastic east coast accent.
The 89-year-old broadcasting legend had said he was "under the weather," adding that his "spirit is strong and my dedication to this show remains absolute!"
Former presidential candidate Pat Buchanan, a longtime panelist on the program, introduced the episode by saying their "distinguished leader" was missed, "but let's get on with the show."
"The McLaughlin Group" first aired in 1982 discussing the week's top political issues with a panel on Sunday mornings.
In addition to producing the program, McLaughlin moderated it and participated in the debate, although lately his participation had been often reduced to just introducing the next topic.
John McLaughlin has passed away at the age of 89.
In lieu of flowers, scream "Wrong!" at Eleanor Clift.

— Grant Bosse (@grantbosse) August 16, 2016
Along with Buchanan, columnists Eleanor Clift, Tom Rohan and Clarence Page were the current weekly panelists on the show which airs on PBS affiliates and a handful of local commercial stations.
Originally from Rhode Island, McLaughlin was a speechwriter for US President Richard Nixon before becoming a political writer for the National Review in 1981.
While mostly known for his right-wing viewpoints, he surprised his conservative colleagues by endorsing John Kerry for president in 2004 over George W Bush.
His unique style and format was parodied on the NBC comedy program "Saturday Night Live" with Dana Carvey playing McLaughlin.