Jailhouse death: Oklahoma grand jury orders fixes but no indictment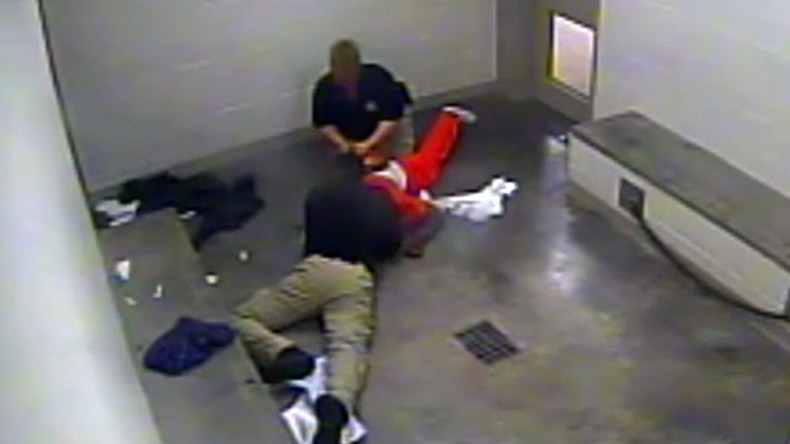 An Oklahoma grand jury failed to hand down an indictment over the homicide of a county jail inmate who was pepper sprayed, put in a chokehold and handcuffed, before losing consciousness and dying. The jury did recommend fixes to jail procedures.
The grand jury recommendations include the use of proper restraint training, annual reviews, cleaning up procedures "that might be outdated," and proper medical screening. The jail fixes were made in July but made public on Monday by the Oklahoma District Attorney.
Video cameras at the Caddo County jail captured the deadly confrontation between Darius Robinson, a father of seven, and the jail staff on April 5. The footage was released on July 25.
Read more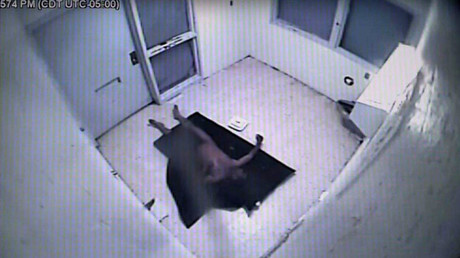 The medical examiner's report said Robinson began acting violently and agitated in his cell. When jailers opened his cell door to check on him he reportedly "charged the staff."
"He was subdued, handcuffed and pepper spray was reportedly used. In addition, it was reported that a neck hold was also used to restrain the deceased," wrote the medical examiner, Dr. Clay Nichols. "While lying handcuffed and prone on the jail floor, the deceased became unresponsive. There was report of white foam coming from his mouth. Death was declared at the emergency room."
The medical examiner declared Robinson died from asphyxiation due to manual compression of the neck, and the manner of death was ruled a homicide.
Attorneys for Robinson's family said jail staff went way too far once they got inside the cell.
"He died from being strangled to death right here in this jail cell. That is unacceptable," attorney Malik Shabazz told ABC News when the video was released.
Ancio Robinson said his brother was sent to jail in April over a warrant for unpaid child support.
"This could've been 100 percent avoidable," Ancio Robinson told ABC News. "He was there for making late payments… My impression was he was going to go to court and work out payment plan and he'd be released."
Robinson suffered from high blood pressure and anxiety, and requested blood pressure medication, but was denied medical attention for two days before his death, his brother said. According to his medical file, he was taking high blood pressure medication and prescription Xanax for anxiety.
The District Attorney's office told the Robinson family the physician came to the facility just one day a week. The family attorney said a lawsuit against Caddo County and the jailers is imminent.