Trump calls Hillary Clinton 'founder of ISIS,' crowd cheers 'lock her up'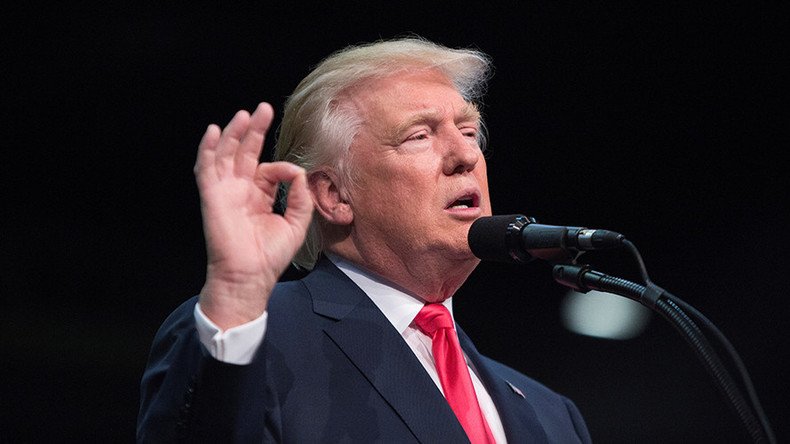 Donald Trump said Wednesday Hillary Clinton "should get an award" from Islamists for founding Islamic State, claiming her policies as secretary of state precipitated the group's formation. Trump's supporters were quick to nod a "lock her up."
"Take a look at Orlando. Take a look at San Bernardino. Take a look at the World Trade Center. Take a look at what's going on, and then worldwide, and we let [Islamic State or IS, formerly] ISIS take this position," the Republican presidential nominee said during an election rally in Daytona Beach, Florida. He drew a list of flaws in US policy in Libya and the Middle East, laying all the blame on his opponent, Clinton.
"It was Hillary Clinton that… she should get an award from them as the founder of ISIS. That's what it was. Her weakness. Her weak policies," the New York mogul stressed, with the crowd then responding with "Lock her up! Lock her up!"
IS, founded by Sunni cleric Abu Bakr al-Baghdadi, started out as a hardline Islamist militant group during the mayhem of the Syrian civil war, which started in 2011. At the time, from 2009 to 2013, Clinton was serving as secretary of state during President Barack Obama's first term and was responsible for the department that conducted US foreign policy.
It's not the first time the controversial Republican has come up with nicknames and titles for his Democratic rival. In fact, his entire campaign has been partly built on goading Clinton. For instance, it's been months that he's been addressing her as "crooked Hillary."
"Wouldn't that be embarrassing to lose to crooked Hillary Clinton? That would be terrible," he said Wednesday. While at a rally on Monday he flat-out nominated Clinton as "the Devil" while criticizing Bernie Sanders' decision to side with Clinton during the National convention.
"He made a deal with the Devil — she's the Devil," Trump blurted out.
Our incompetent Secretary of State, Hillary Clinton, was the one who started talks to give 400 million dollars, in cash, to Iran. Scandal!

— Donald J. Trump (@realDonaldTrump) August 3, 2016
During his address in Florida, Donald Trump seemed to be following the motto of "attack is the best form of defense." Apart from poking at his Democratic opponent, he lashed out at the US president.
"We have a president who is frankly incompetent […] We've been humiliated by President Obama and his policies," he said.
President Obama will go down as perhaps the worst president in the history of the United States!

— Donald J. Trump (@realDonaldTrump) August 2, 2016
This came just a day after Obama declared Trump "unfit" to hold office in the White House and called on the GOP leaders to withdraw their endorsements of him.
The Republican nominee also ridiculed Obama for playing "more golf than people on the PGA tour."
"I should play Obama for the presidency," he said. "I'll do it. Then I'd be assured of winning, OK?"
Trump also refuted all speculations about splits in the Republican Party.
"The campaign is doing really well […] I would say right now it's the best we've been in terms of being united," he insisted.
There is great unity in my campaign, perhaps greater than ever before. I want to thank everyone for your tremendous support. Beat Crooked H!

— Donald J. Trump (@realDonaldTrump) August 3, 2016
You can share this story on social media: