The purge: Senior DNC staff resigns after email revelations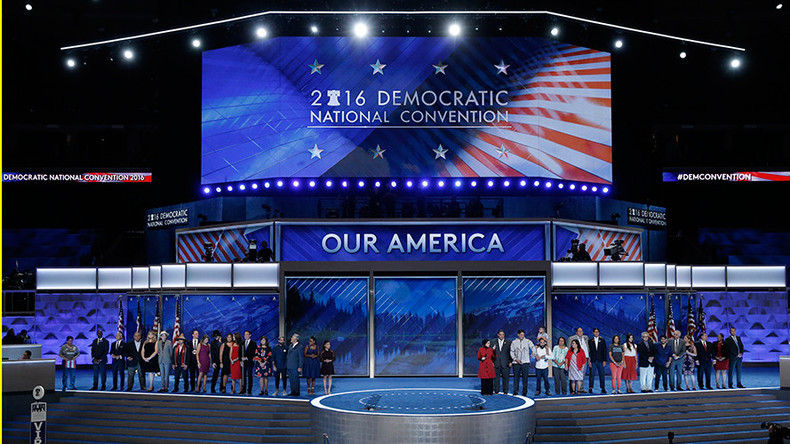 Three senior officials at the Democratic National Committee – frequently mentioned in leaked emails revealing collusion with the media, bias against the Bernie Sanders campaign, and favoritism for Hillary Clinton – have resigned.
More than 20,000 messages obtained from DNC servers were released by Wikileaks on the eve of the Democratic convention in Philadelphia, Pennsylvania – leading to the resignation by party chair Debbie Wasserman Schultz.
Chief executive officer Amy Dacey, Chief financial officer Brad Marshall, and communications director Luis Miranda are now also leaving the DNC, interim chairwoman Donna Brazile announced Tuesday.
"Thanks in part to the hard work of Amy, Luis, and Brad, the Democratic Party has adopted the most progressive platform in history, has put itself in financial position to win in November, and has begun the important work of investing in state party partnerships," Brazile said in a statement. "I'm so grateful for their commitment to this cause, and I wish them continued success in the next chapter of their career."
A former adviser to Bill Clinton and campaign manager for Al Gore, Brazile served as interim party chief once before, in 2012, managing the transition between the incoming Wasserman Schultz and the outgoing chairman Tim Kaine – who is now serving as Clinton's running mate.
Dacey, described as the person responsible for the day-to-day operations of the party, was involved in one of the most controversial exchanges made public by WikiLeaks, in which Marshall speculated about Bernie Sanders' Judaism, called him "an atheist," and said this could make a difference in the Kentucky and West Virginia primaries.
"My Southern Baptist peeps would draw a big difference between a Jew and an atheist," Marshall wrote in an email, sent to a group that included Dacey, Miranda and another staffer, Mark Paustenbach.
Another email, dated May 16, 2016, brings up an event headlined by Dacey and White House political advisor David Simas, and discusses using the offices of Hogan Lovells LLP as the venue. The mega-firm anchored in Washington, DC and London has represented Saudi Arabia in the US and has a long history of involvement with the Clintons.
From 2000 to 2007, known then as Hogan & Hartson, the firm also employed Khizr Khan, a Pakistani-American whose criticism of Trump at the Democratic convention in Philadelphia last week touched off a media firestorm about Trump's "disrespect" for Gold Star families. Another former employee was the current Attorney General Loretta Lynch.
Before joining the DNC, Dacey was the executive director of Emily's List, a group dedicated to electing female Democrats. She has already landed on her feet, taking a job at Squared Communications, a Democratic consulting firm based in Washington, DC.
"As one of the top campaign strategists in our party, and with our experiences together on presidential, Senate and congressional campaigns, Amy will help our firm's clients navigate this and future election cycles," Michael Meehan, Squared founder and CEO, said in a statement Tuesday.
Former DNC executive director Tom McMahon has been brought in as the new CEO, according to Brazile. McMahon is credited with creating the "50 state strategy" for former Vermont Governor Howard Dean when he chaired the DNC between 2005 and 2009. Brandon Davis, who already serves as chief of staff, will be in charge of general election strategy. Doug Thornell, a longtime Democratic strategist who works at the consulting firm SKDKnickerbocker, will join the DNC as a senior adviser.
"This election is the most important of my lifetime, and the DNC will continue to recruit top talent to help lead the fight to elect Hillary Clinton and Democrats across the country," Brazile said.
This presumably includes Wasserman Schultz, who was reportedly pressured to resign by President Barack Obama himself, and was tapped as honorary chair for Clinton's 50-state effort to elect Democrats nationwide.
Another DNC staffer mentioned in many emails, former broadcast media director Pablo Manriquez, resigned in May to take a post with the US Hispanic Chamber of Commerce.
You can share this story on social media: