Sanders surrogate considering Green Party VP slot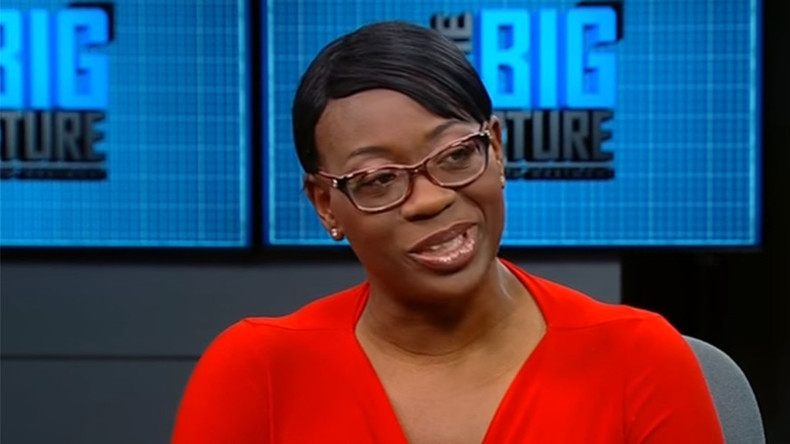 Nina Turner, a former official of the Ohio Democratic Party and one of Bernie Sanders' top surrogates in his run for US president, has been offered the vice presidential position on the Green Party's ticket.
Turner, 48, was invited to join the party's ticket along with presidential candidate Jill Stein, a physician from Massachusetts who ran as the Green Party nominee in 2012. Turner told news outlets, including cleveland.com, that Stein offered her the vice presidential slot just days ahead of the party's national convention in Houston, which begins August 4.
"Talking with my family. There's nothing to tell at this point," Turner said, according to the Washington Post. She said she is considering the possibilities of a Green Party run.
"A third party might not be bad for this country," she said. "Let's shake it up. We've had more than two parties over the history of our country. I know right now we have two, but maybe a third party might shake up both major parties. I'm a lifelong Democrat, but I want to see the Democratic Party live up to its principles. If we refuse to, if we are not able, then we do need to shake things up."
Turner, a former Ohio state senator and Cleveland city councilwoman, originally endorsed Hillary Clinton to be the Democratic presidential nominee, but then switched to supporting Vermont senator Bernie Sanders last fall. Since then, she has been one of Sanders' most tireless advocates.
"She killed herself for the last year in the Sanders campaign," RoseAnn DeMoro, executive director of National Nurses United, told the Post. "She was the second to Bernie, I would imagine, in terms of speaking for the campaign on national television. She's African American, she's smart, she's a draw."
At the Democratic National Convention in Philadelphia last week, Turner was scheduled to give a speech nominating Sanders, but her appearance was cancelled at the last minute for unknown reasons. Sanders himself had called for his backers to throw their weight behind Clinton. Yet supporters of Turner and Sanders still held a small rally outside the DNC last week to protest Turner's treatment.
"Senator Sanders told me that himself for reasons that I will not comment on," she told NBC News.
She added: "It was just really unfortunate, especially on a night when African-American women were all on that stage and talking about giving that voice to women. And then Senator Sanders had to give me the bad news."
As one of Sanders' most visible campaign surrogates the past several months, Turner has called for a restoration of the Voting Rights Act. She is currently a history professor at Cuyahoga Community College.
The Green Party's showing in the 2012 presidential election was its best since Ralph Nader's run in 2000. Stein has actively targeted Sanders supporters who have felt jilted by the Democratic Party and the Clinton campaign. Last week, leaked emails from the supposedly neutral Democratic National Committee revealed that party officials heavily favored Clinton over Sanders in the nomination process.