Walk out & occupation: Sanders delegates stage walk out during DNC roll call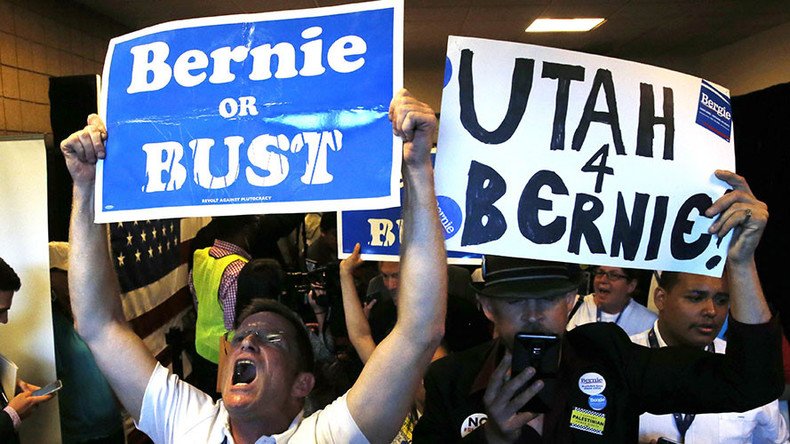 After Senator Bernie Sanders moved to nominate Hillary Clinton by acclamation during roll call, he left the Democratic convention hall – as did more than 500 of his delegates.
READ MORE: 'I move that Hillary Clinton be selected': Bernie Sanders' final word as candidate at DNC
Over 300 of those participating occupied the media center after walking out of the roll call vote for the presidential nomination at the Democratic National Convention.
Police then blocked the media center entrance, even blocking reporters from re-entering.
Another group of 200 people gathered outside the media center, who are part of a group called Coalition 57.
"Hillary Clinton never had those votes, those votes were with Bernie, and will leave with Bernie. Bernie energized the base and they will stay with the Democratic Party. I am one of those people," a delegate from Maui, Hawaii told RT.
Another delegate said the Democratic Party needed healing. There were over 1,900 delegate votes for Sanders before his acclamation motion for Clinton.
"We knew this was going to happen. He (Sanders) had a conference call with his delegates a few weeks ago, and he said the world has to see what we accomplished," said Michael Fortes, a delegate from Oakland, California. "We didn't know he would call for acclamation. It was a very symbolic gesture; however I think a couple of things have to happen before we achieve unity. We need healing. There were something done in the structure of the party. We need an apology."
Ohio delegate Michele Mahon told RT, "I am very thankful for the all the work he has done for the issues that people face in this country. I can continue to hold politicians accountable."
Another delegate walkout was Cathy from Wisconsin.
"We followed Bernie's lead and we followed him out. I was so enveloped in hope, and there doesn't appear to be much of that and I am heartbroken as I am sure the Senator is," said Cathy. "I have been working for him for over a year. I am tired. I am out of hope right now."
Some of the delegates taped their mouths shut with black tape to signify that they had been silenced.
Despite the large number of delegates walking out, not all of his supporters at the convention agreed on all of the issues regarding the nomination process or the party's future.
A Bernie Sanders delegate from Kansas was opposed to the walkout, while a San Diego delegate said he recognized the political pressure that Bernie Sanders was under.
"I am not going to fault him for doing what he did," said the San Diego delegate. "I do fault the DNC for rigging this election from the beginning. The Wikileaks confirmed what we were saying all along."
He added, "People are going to run for office on their own. The DNC has lost a lot of delegates. It is not just new millennial exiting; there are lots of veteran Democrats who are leaving."
You can share this story on social media: