Americans want tougher gun laws, ban of assault weapons – poll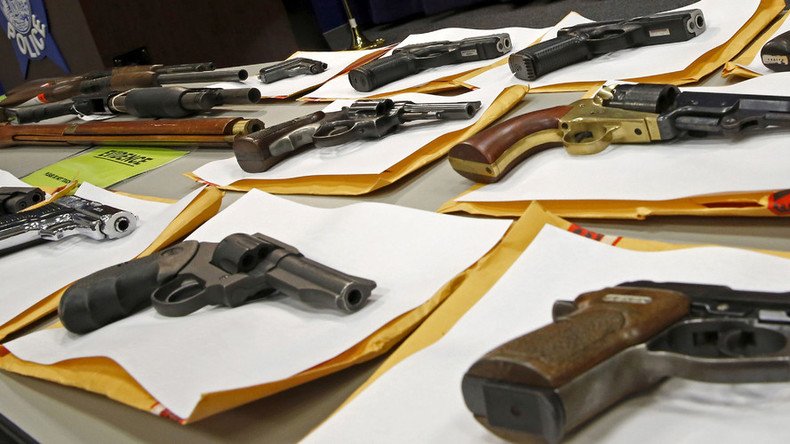 An increasing number of people in the US favor stricter gun control, imposed on federal level rather than by individual states, a new poll showed. People interviewed expressed a sense of insecurity and fear of falling victim to gun violence.
In June and July, 64 percent of the 1,000 Americans said they wanted stricter gun control laws, compared to 55 percent in 2013, when Associated Press-GfK first started asking the question. Eleven percent said the laws should be less strict, while 23 percent wanted them the way they are now.
Among the suggested measures people polled overwhelmingly supported federal standards for gun buyers' background checks and a ban on sales to people on a federal terrorism list, regardless of whether they had been convicted of any crime. Both are supported by 73 percent of people polled and opposed to by 10 percent.
People also strongly favored criminal liability for adults if their guns are used by children to hurt someone. The suggestions to ban the sale of semi-automatic weapons like the AR-15 rifle and high-capacity magazines are supported by 57 percent and 53 percent respectively, while 25 percent oppose both. Such restrictions however are not favored by gun-owning households.
Radical gun control measures like a nationwide ban on sale of handguns or mandatory sale of guns by owners to the federal government were rejected by the Americans. By a 55 percent to 43 percent margin, respondents said laws limiting ownership do not infringe on the Second Amendment.\
People were split over their attitude towards the National Rifle Association, with an equal percentage saying that they favored or disfavored the organization. However, 42 percent said the NRA had too much influence in the US as compared 38 percent who said it had the right amount and 17 percent saying it had too little.
The majority of the people polled said they were concerned to at least some degree that they or their family members may fall victim to gun violence in general or a mass shooting in particular. Nonwhites are significantly more likely to be very or extremely concerned, the poll showed.
READ MORE: Background check data confirms typical US response to mass shooting: Buy more guns

"If you live in the United States in these days right now, you have to be concerned," Milonne Ambroise, a 63-year-old administrative assistant from Decatur, Georgia, told AP-GfK. "You could be on the street somewhere. You could be at a shopping mall thinking there will be a mass shooting and you will be in the middle of it. You can't not think about it."
Support for gun control is growing in the US amid a string of high-profile cases of gun violence in the country. The latest AP-GfK poll was taken shortly after the massacre in an Orlando nightclub, which left 50 people dead, including the gunman. It was the second-deadliest mass shooting in the US history.
Almost 60 percent of respondents said the Obama Administration hadn't handled gun control well, but the people were split on which presidential candidate in the 2016 race would do a better job. An equal percentage of 36 points favored Hillary Clinton and Donald Trump to tackle gun laws while 23 percent said they trusted neither to do it.
You can share this story on social media: