Go 'Trump yourself': Hillary Clinton launches Donald insult app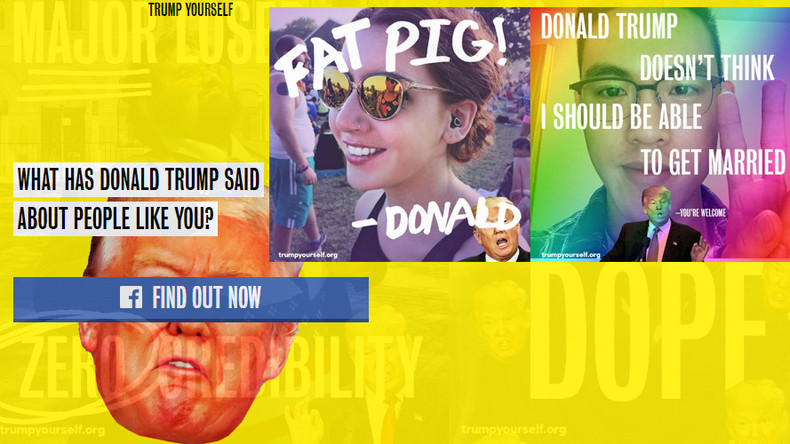 Hillary Clinton's campaign has launched a new social media tool to remind us of all the offensive things Republican presidential nominee Donald Trump has said by superimposing one of his many memorable quotes onto your Facebook profile picture.
The potentially masochistic application was launched on Hillary Clinton's website Thursday and has been pushed online through the presumptive Democratic nominee's own social media accounts.
If you upload your photo to the insult generator, you may have your photo labeled "fat pig," "goofy," "dopey," "total lightweight – sad," or "major loser – zero credibility."
The more detailed quotes used include "Donald Trump doesn't think I should get married," – aimed at the gay community, or "they have to go," targeting undocumented migrants.
Trump's controversial comments on Muslims, Mexicans and women are also up for grabs on the avatars.
"Trump yourself" quickly started trending on Twitter after its launch, and according to Clinton's campaign team, caused the site to crash due to the heavy traffic.
The tactic has not proved popular with everyone, however. Many blasted the social insult generator as juvenile, comparable to schoolgirl bullying.
Others have accused the presumptive Democratic candidate, who is expected to be officially nominated at next week's Democratic National Convention in Philadelphia of mud slinging right off the bat.
Concerns have also been raised about how the tool gathers and stores data, with some taking the opportunity to turn the tables and remind Clinton voters of her recent email scandal.
Earlier this month, FBI Director James Comey recommended that no charges should be taken against Clinton for using a private server during her time as secretary of state.
READ MORE:FBI investigation into Clinton email scandal damaged candidate's popularity – poll
#TrumpYourself Gives HILLARY F'n CLINTON access to your personal info through Facebook...is there ANYONE you trust LESS with your password?

— Brenden Dilley (@Hublife) July 21, 2016
Both political parties are using social media and technology to further their campaigns and smearing of each other, even taking advantage of the recent success of the augmented reality app Pokemon Go. Clinton's campaign has used the game to register voters, while Trump released a parody of the game entitled "Crooked Hillary No."
READ MORE: Poképolitics: Clinton, Trump battle for worst Pokémon Go reference
You can share this story on social media: