FBI investigation into Clinton email scandal damaged candidate's popularity – poll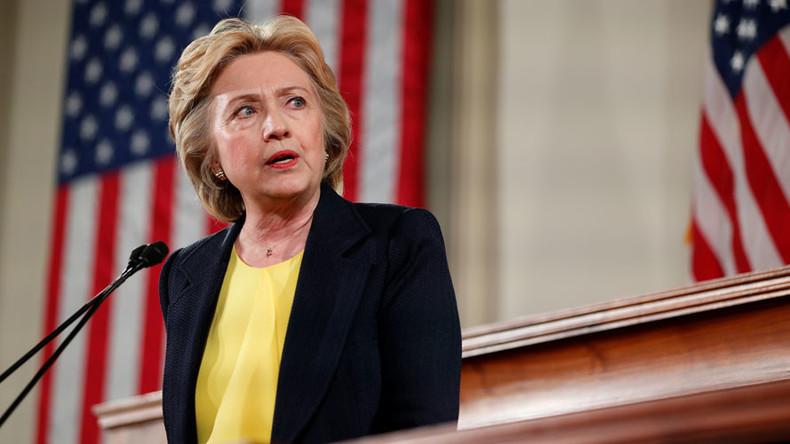 The FBI investigation into Hillary Clinton's email scandal has damaged the Democratic candidate's approval ratings, according to a new poll. The survey found that a majority of voters believe she cannot be trusted.
The New York Times/CBS survey released on Thursday found that 67 percent of voters believe Clinton is not honest or trustworthy – up from 62 percent last month. The new figure represents the highest percentage in this election cycle.
Only 28 percent of voters said they view the Democratic candidate as honest and the number of people saying she is prepared for the job of president dropped from last month. However, half of those polled still believe she's qualified.
Most voters said they believe Clinton did something wrong when she set up a personal server and email address for work when she served as secretary of state. Forty-six percent believe the move was illegal, up from 41 percent last month.
Unsurprisingly, most of those critical of Clinton's email practices are associated with the GOP. Some 78 percent of Republicans believe what she did was illegal, while half of independents expressed the same sentiment.
The numbers were lower for Democrats, of which 43 percent said she did nothing wrong. Another 35 percent said what she did was inappropriate, but not illegal. Very few Democrats said she had actually broken the law.
Voters were almost perfectly divided on whether the FBI investigation into the email scandal was fair. Forty-eight percent expressed at least some confidence that the probe had been independent and impartial, while 47 percent – including most Republicans and a slim majority of independents – had little or no confidence that it was.
While Clinton's confidence numbers have fallen from last month, views of her Republican opponent, Donald Trump, have also remained mostly negative.
Sixty-two percent of voters said they don't believe Trump is honest, and two-thirds said he is not prepared for the job of president – compared to 48 percent who say that Clinton isn't.
However, the number of people saying they have an overall positive view of Trump has grown slightly since last month, from 26 percent to 30 percent.
Trump squashed Clinton when it came to the economy and jobs, with 52 percent saying he would do a better job in that category, compared to 41 percent who said Clinton would. However, the Republican candidate drastically trailed his opponent when it came to race relations, with 60 percent expressing confidence that Clinton would do the best job, compared to just 29 percent who thought the same of Trump.
The nationwide poll surveyed 1,358 registered voters from July 8 to 12 using cellphones and landlines. The margin of sampling error is plus or minus three percentage points for all voters.
You can share this story on social media: