Trump's Wall of Fame: The Donald's Hollywood star fenced in (VIDEO)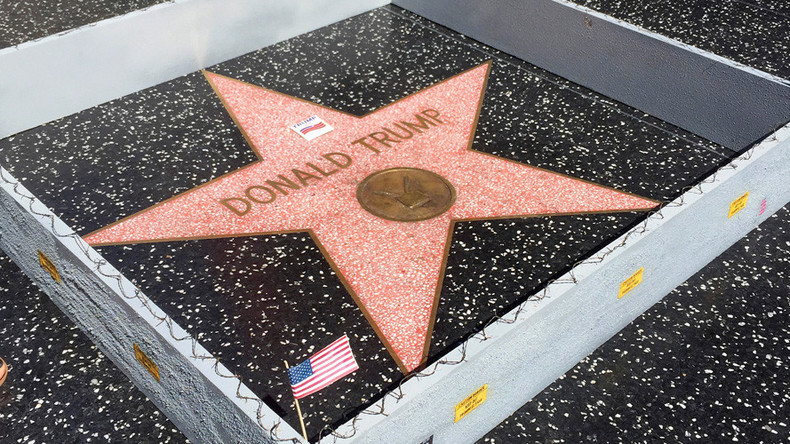 It's either a genius piece of vandalism, a symbolic metaphor or just a model proposal by a pushy architect, but Donald Trump's star on the Hollywood Walk of Fame was briefly surrounded by a tiny cement wall this week.
Featuring barbed wire, keep out signs (written in both Spanish and English) and American flags, it would be surprising to almost no one if Trump had commissioned the wall himself.

However it seems the 15cm wall is actually the work of a street artist known as 'Plastic Jesus'.
READ MORE: Wall Off Trump demonstration built inside RNC's secure perimeter (PHOTOS, VIDEOS)
Jesus was clearly inspired by Trump's promise to build a "great, great wall" across the US-Mexico border if elected president, in order to keep illegal immigrants from entering the country.

Speaking to artnet, Jesus explained that while other artists have focused on"personal attacks"against the Republican presidential nominee,"I think really what we should be focused on is attacking ridiculous policies that will damage the US."
"Things like human rights, equality, freedom, and law and order – all of these things have improved drastically over the last few decades. I think Trump will actually set this country back about 30 years," he added.
Delighted tourists stopped to snap shots of the new addition which was erected Tuesday and removed Wednesday.
Aside from the obvious question of why the Republican Presidential Nominee has a star on the Hollywood Walk of Fame, one thing simply must be answered … who paid for it?
Trump's star has already been the target of a series of defacements from passersby, ranging from people spitting on the tile to a crudely drawn swastika.
READ MORE: Spit, wee & poo: Donald Trump's Hollywood star keeps getting defaced (PHOTOS)