Spit, wee & poo: Donald Trump's Hollywood star keeps getting defaced (PHOTOS)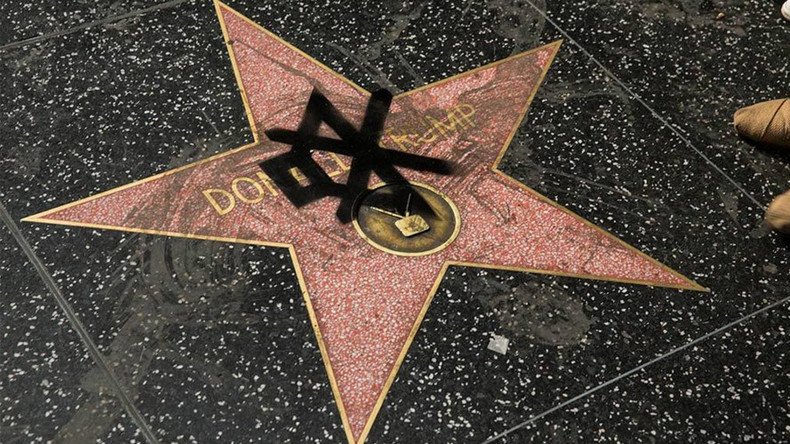 Mentions of Donald Trump enrage many people, with some taking out their anger on his Hollywood Walk of Fame star by covering it with spit, wee and poo, among other things.
Trump received the star in 2007 for his involvement in the NBC TV show 'The Apprentice', which a lot of people find surprising. So surprising, in fact, that they've tweeted about it in CAPS.
As an increasing number of people discover the star, however, it seems many are defacing it – and in a variety of forms too.
Some visitors to LA's famous boulevard have gone as far as urinating on it, and one service dog has even reportedly pooped on it – and looked quite pleased with the results of its work.
The Hollywood Chamber of Commerce, which looks after the famous pavement, is tasked with cleaning Trump's star after each incident, but is reluctant to remove it, regardless of the vandalism.
Hollywood Chamber of Commerce president and CEO Leron Gubler previously told the LA Times that "once a star has been added to the Walk, it is considered a part of the historic fabric of the Hollywood Walk of Fame."
"Because of this, we have never removed a star from the Walk," he added.
In a similar act of protest through defacement, the word "rapist" was scrawled onto the star of actor Bill Cosby in December of 2014, after a number of rape allegations were leveled against him.
You can share this story on social media: