US to send 560 more troops to Iraq to retake ISIS stronghold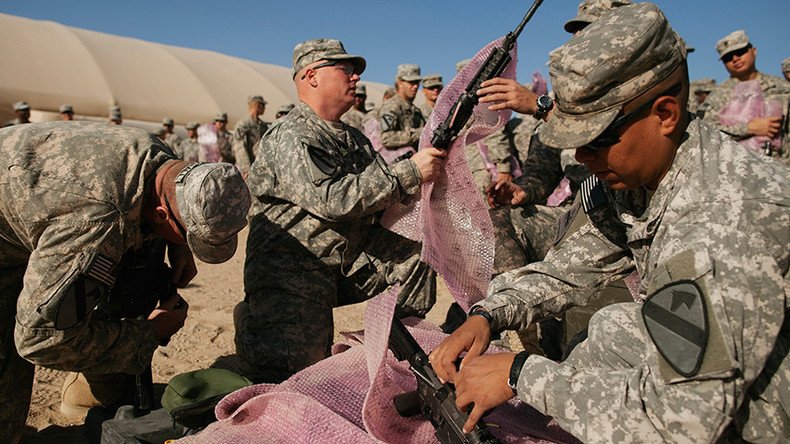 More US troops are on the way to Iraq to aid the country's armed forces in the upcoming offensive against the Islamic State stronghold of Mosul, US Defense Secretary Ash Carter announced during a surprise visit to the country.
The new troops will be deployed to the airbase in Qayara, liberated by Iraqi troops on Saturday. The base is 60 kilometers (37 miles) south of Mosul, which has been held by Islamic State (IS, formerly ISIS/ISIL) since 2014.
With these new reinforcements, the US will have about 4,650 troops in Iraq, two years after returning to the country to fight ISIS. If US commanders require more troops, Carter said he would "ask the president for them."
White House's @PressSec says 560 US troops going to Iraq will focus on getting Qayara air base up and running as logistics hub.

— Olivier Knox (@OKnox) July 11, 2016
Carter praised the seizure of Qayara as a "key strategic victory," telling reporters that it would be used to complete the envelopment of Mosul from the south.
"These additional US forces will bring unique capabilities to the campaign and provide critical enabler support to Iraqi forces at a key moment in the fight," the Pentagon chief told American troops assembled at the airport in Baghdad, according to AP.
The new troop contingent will include engineers, logistics personnel and other forces intended to help the Iraqi army with planning and preparation for the campaign to liberate Mosul. Carter also promised to place US advisers with Iraqi brigades and battalions as they advance on the ISIS stronghold.
American advisers are already working with Iraqis on a brigade level, but have not yet accompanied them on operations on the battalion level, US officials who wished to remain anonymous told AP.
A similar base established last year in Makhmur, 30 kilometers (18 miles) east of Qayara, supported Iraqi advances with artillery fire. One US Marine, Staff Sergeant Louis Cardin, was killed at that outpost in March, as a result of an IS rocket attack.
Carter is making an unannounced visit to Iraq in the wake of the Iraqi forces' latest successes against ISIS, with government forces taking control of major cities like Fallujah and Ramadi and a number of smaller settlements in recent months.
The Pentagon chief will be in Iraq only for a day, meeting with the Iraqi Prime Minister Haider al-Abadi and Defense Minister Khalid al-Obeidi, as well as the US Liutenant-General Sean MacFarland, in charge of Operation Inherent Resolve.
The Iraqi liberation of Qayara points to a renewed push on Mosul, after the government in Baghdad decided to delay the planned offensive in order to focus on Fallujah, a major city in Anbar province.
Residents of Mosul should "prepare for liberation," Abadi said.
Fallujah was successfully captured at the end of June, with US and Iraqi aircraft destroying a large column of IS vehicles attempting to escape.
The IS convoy was such a tempting target that the US coalition sent all of its air assets there on June 28, leaving the Pentagon-backed "New Syrian Army" rebels without air cover and support in the middle of a push on the IS stronghold of Bukamal, the Washington Post reported last Wednesday. As a result, the offensive was a failure, and the group was forced back to its base on the Syrian-Iraqi border.
Though the US troops in Iraq have been billed as strictly advisory personnel, never intended to see combat, three American soldiers have been killed in battle with ISIS so far. In addition to Sergeant Cardin, a Navy SEAL, Petty Officer 1st Class Charles Keating, was killed in May near Irbil, while Master Sergeant Joshua Wheeler of the US Army was killed in a raid in Hawijah, west of Kirkuk, in October 2015.
You can share this story on social media: