US to send 200 more troops, Apache helicopters to Iraq to fight ISIS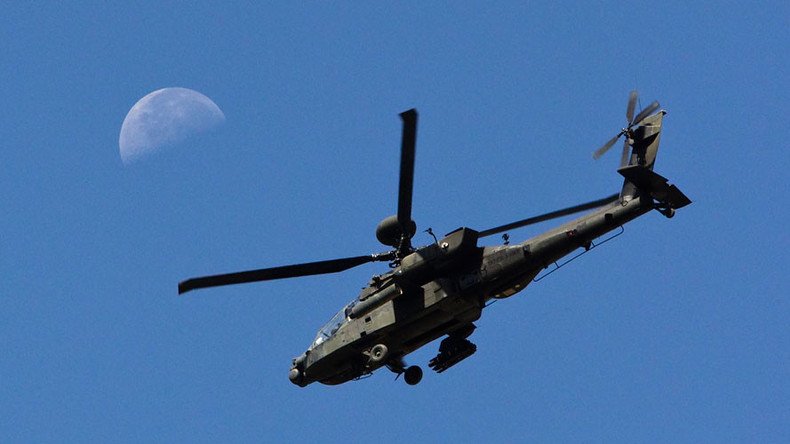 The US will deploy 217 troops and Apache helicopters to Iraq as part of operations against jihadist group Islamic State, according to US defense officials. The additional troops will bring the US solider level in Iraq to 4,087.
Most of the additional troops will be US Army special forces, the Associated Press reported. The rest will include teams of trainers and advisers to be embedded with Iraqi security forces fighting Islamic State (IS, formerly ISIS/ISIL), meaning US advisers will be stationed near the battlefront as Iraqi units move toward Mosul. Iraq is attempting to retake Mosul, the nation's second-largest city, from Islamic State control.
Maintenance personnel for the Apaches will also be included in the troop injection. The Apaches will be available for use in the push to regain Mosul, AP reported.
In Iraq #SecDef announces accelerants to defeat #ISIL. List includes expanding advise & assist efforts to help Iraqi forces liberate Mosul

— U.S. Dept of Defense (@DeptofDefense) April 18, 2016
US Secretary of Defense Ashton Carter indicated on April 16 that the US military will boost its operations against Islamic State.
"You should expect us, to see us, doing more," Carter said, according to the New York Times. "It will be consistent with the same approach, but it'll be across all the domains, right up to cyber."
The US will also send as many as 200 special operations forces to advise and assist US-allied Syrian fighters battling Islamic State, NYT reported.

Carter said any additional US military forces in Iraq and Syria are not replacements for Iraqi security forces or Syrian fighters in opposition to Islamic State. Additionally, a US military spokesman in Iraq said last week that the initial phase of the US-led campaign against Islamic State was complete and that the campaign has moved to a new phase.
"During this phase, we will enable our partners to dismantle the enemy, fragment his forces, isolate his centers of gravity and liberate the terrain he holds," said Col. Steven H. Warren.
As of April 12, the US-led Operation Inherent Resolve had conducted a total of 11,539 airstrikes against IS targets in Iraq and Syria. Of that total, the US has conducted 8,825 of the strikes, according to the Pentagon.
The Pentagon also said will give $415 million to Kurdish peshmerga units in their efforts against IS in Iraqi Kurdistan. Kurdish forces have surrounded Mosul from the north, east, and west.
Helping Iraqi forces retake Mosul will be a formidable challenge, US defense officials have said. On Monday, Secretary Carter will meet with top US military commanders in Iraq as well as Iraqi Prime Minister Haider Al-Abadi and Defense Minister Khalid Al-Obeidi, CBS News reported. He is also scheduled to speak by phone with Iraqi Kurdish leader Massoud Barzani.
After months of negotiations, Iraqi leaders only backed the addition of US forces on the condition that they assist Iraqi forces with specific capabilities needed to retake Mosul from IS, CBS News reported citing an anonymous senior defense official. Carter said the White House has fully supported Pentagon initiatives to boost the US-led campaign against IS.
"We've gotten approval from the White House every time the chairman and I have gone to ask for something that we've needed to accelerate going way back to last year," Carter said, according to NYT, in reference to Gen. Joseph Dunford, the chairman of the Joint Chiefs of Staff. "So that isn't really the issue for us, the issue for us is yet identifying more ways to accelerate the campaign."
Mosul, a predominantly Sunni Muslim city, fell into IS control in the summer of 2014 and is a strategic center of the self-proclaimed Islamic State caliphate, along with the Syrian city of Raqqa. Last month, the Iraqi government announced an operation to retake Mosul from IS.
"The first phase of the Fatah [Conquest] Operation has been launched at dawn to liberate Nineveh [province], raising the Iraqi flag in several villages," said the Iraq military in a statement late last month.
According to the Pentagon, it will take between eight and 12 Iraqi brigades – more than 20,000 troops – to gain control of Mosul. Last month, Marine Lt. Gen. Vincent Stewart, director of the US Defense Intelligence Agency, testified at a congressional hearing that recapturing the city is still about a year away.
You can share this story on social media: