Over 100 arrests made nationwide in Black Lives Matter protests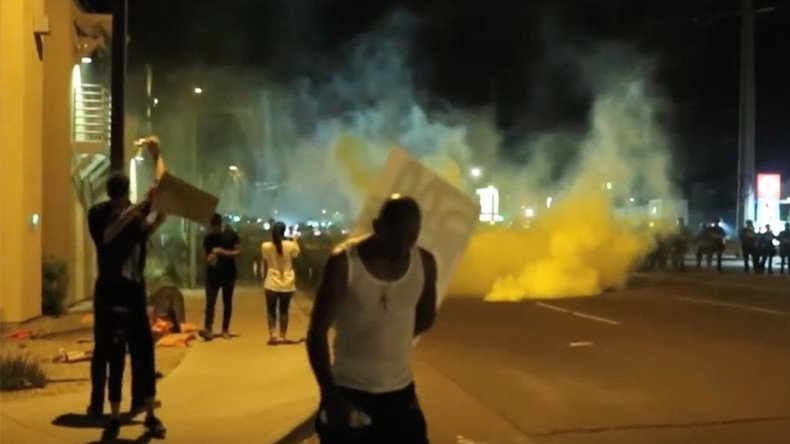 After police increased their vigilance following the deadly shooting of policemen in Dallas, US law enforcement across the nation went on to arrest over 100 people protesting against police brutality and racism on Friday night.
As mourners for the five police officers killed in Thursday night's shooting in Dallas ambush concluded their vigils, Black Lives Matter protests engulfed the country with renewed fervor.
Thousands of activists marched across US cities Friday night, demanding justice for Alton Sterling and Philando Castile, black men who were shot dead by police officers earlier in the week.
The largest number of arrests was made in Rochester, New York, where protesters blocked downtown streets after a crowd began to gather from around 9:45pm.
LIVE UPDATES: Protests, outrage & grief in aftermath of fatal shooting of cops in Dallas
Half an hour later, Rochester police in riot gear started to move people out of the intersections. The officers began to arrest people after the mob of more than 400 people began to surround police lines and throw rocks at them, RPD said.
"At this point ... there were 74 arrests for disorderly conduct. There were also two charges for resisting arrest," Rochester Police Chief Michael Ciminelli said at a news conference on Saturday. No one was injured.
While the situation "escalated a little bit", police refrained from using force, and did not "deploy any weapons, any Tasers," Rochester Mayor Lovely Warren told journalists.
In a similar protest in Baton Rouge, Louisiana on Friday night, authorities went on to arrest 31 in a rally that drew hundreds just outside police headquarters.
Louisiana State Police said that arrests had been made mostly for obstructing a highway and inciting people to riot. At one point the situation got tense enough for an officer to pull his handgun on protesters. The incident has been caught on video, and police are now reviewing the footage.
"It's difficult to tell why the officer pulled his weapon. We are working to identify this officer so we can better understand the reason he might have done this," Baton Rouge Lt. Johnny Dunham told NBC News. "After the Dallas murder of five officers at a protest the night before officers are very cautious and on the lookout for any threat. Tensions were very high last night on both sides. But in the end cooler heads prevailed."
Louisiana State Police also confirmed reports that frozen water bottles were at troopers during the rally.
Protests were demanding that officers, who killed 37-year-old Alton Sterling on Tuesday in Baton Rouge, face murder charges. The incident involving two officers was recorded by multiple bystanders, with the footage showing the shooting to have happened at point-blank range.
Another big rally took place in downtown Atlanta, Georgia with over 10,000 people in attendance. Traffic downtown was brought to a standstill after activists started marching from the National Center for Civil and Human Rights.
While the march proceeded peacefully, Georgia State Patrol said three people were arrested.
In Phoenix Arizona police responded with pepper spray and tear gas to disperse crowds, when protesters tried to take over the freeway as authorities cordoned off 10 ramps. Three people were arrested and six were injured by the end of the night, police confirmed.
You can share this story on social media: