'Yankees' arrested for removing Confederate flag while visiting Deep South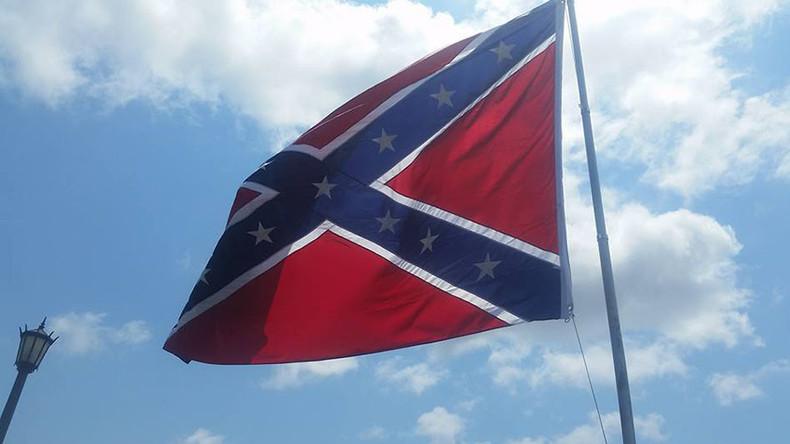 Two 'Yankee' tourists visiting South Carolina met with some good old fashioned 'Southern justice' after they removed two Confederate flags in protest of their racist legacy.
The South Carolina Secessionist Party's weekly display of Southern flags on Saturday upset Lydia Folckomer, who decided to break two of them off of a parked truck and make a getaway.
Party founder James Bessenger shot off after the 22-year-old New Yorker. Lydia's 50-year-old father Paul Folckomer reportedly tried to "manhandle" Bessenger to stop him from chasing his daughter, according to a post on the party's Facebook page.
Both daughter and father were arrested. Lydia was charged with malicious injury to real property and Paul was charged with simple assault.
"The moral of the story? Make the Yankees pay for their crimes when they come to our state, break our laws and attempt to dishonor our ancestors," the group said on Facebook.
The two will appear in court on July 22, with the Secessionist Party calling on its "members, supporters and flaggers" to be there on the day "to show their support, flags in hand."
The party is currently planning to raise the Confederate flag over the State House in July during a four-hour rally, being organized to mark the first anniversary of its removal from the building.
READ MORE: Dixie down: S. Carolina lawmakers vote to remove Confederate flag
While South Carolina lawmakers have branded the move as "crazy" and said it "defies logical and common sense," they also say the group has "the right of free expression" to do it.
Legislators came under intense pressure to remove the flag following the fatal shooting of nine people at the Emanuel African Methodist Episcopal Church in Charleston in June 2015 by white 21-year-old Dylann Roof, who had posted several pictures online posing with the Confederate flag.
READ MORE: S. Carolina church shooting suspect arrested; identified as Dylann Storm Roof, 21
In the aftermath of the flag's removal in 2015, members of the New Black Panther Party and the Ku Klux Klan (KKK) clashed during rallies at the state house over opposing views on the flag's presence.