Donald Trump accused of deleting email evidence in lawsuit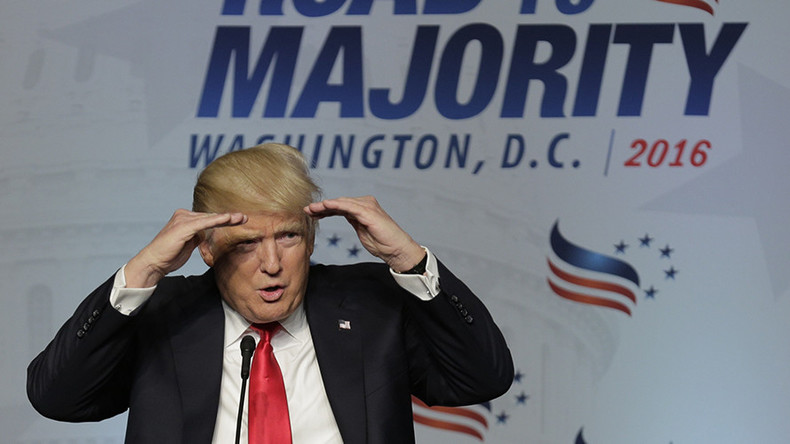 Donald Trump spends a lot of energy reminding voters of Hillary Clinton's private email server scandal involving deleted emails. Now, however, the billionaire businessman stands accused of destroying evidence related to a decade-old lawsuit.
With attention turning towards the presumptive Republican nominee's 3,500 lawsuits, one from 2006 stands out. Jeffrey Streitfeld, civil division judge of the 17th Judicial Circuit Court in Florida at the time, had ordered the Trump Organization to hand over several years' worth of emails related to Trump's casino operations, but the organization claimed to not have any of them. The defendants in the case claimed this amounted to destruction of evidence, USA Today reported.
The 2006 lawsuit involves Richard Fields, a former talent agent who had managed Trump's ex-wife Marla Maples and who was considered by some to be the original apprentice to Trump, according to the Daily Beast. Fields had approached Trump with an idea: Break into the Florida market by building a casino on Indian land.
With the Seminole Indian reservation in Florida seemingly on board in 1998 and Trump fundraising heavily for then-gubernatorial candidate Jeb Bush, it seemed that Trump's newest casino was a done deal. However, Bush quickly killed the plan, saying, "I am opposed to casino gambling in this state, and I am opposed whether it is on Indian property or otherwise."
Fields had wanted to keep fighting, but Trump was done with the matter. In a sworn affidavit, Trump told Fields, "If you want to try this on your own, Richard, that's fine, but I'm through with it."
Fields did try it on his own, and eventually succeeded. Fields and his real estate development partner would go on to be bought out by the Seminoles for over $1 billion.
When Trump got wind of Fields' success, he sued. The lawsuit claimed that Trump Hotels was entitled to the casino's profits because Trump Hotels had pursued a similar deal with the tribe. But when the companies being sued asked for emails proving Trump Hotel's involvement in the Seminole development deal, Trump's company lawyer, Robert Borrello said, "My understanding from speaking to my client is that there are no emails."
In fact, Borrello claimed that Trump did not even use emails and that Trump Hotels did not retain emails from 1996 to 2001. Streitfeld told USA Today: "I was a bit incredulous that an organization of that significance doesn't do email."
"I had heard a number of things in 24 years on the bench, but that stuck in my mind," the former judge added.
Court transcripts obtained by USA Today show that Streitfeld's response has not changed much since he heard the case 10 years ago, when he said: Trump "has a house up in Palm Beach County listed for $125 million, but he doesn't keep emails. That's a tough one."
The case ended like many others involving Trump: by settlement.
Meanwhile, Trump is not the only person involved in his campaign accused of deleting emails. New Jersey Governor Chris Christie has come under fire for claiming that his cell phone, text messages and emails from three different accounts have been lost.
While losing a phone or password is not strange, it is odd that everything Christie lost pertained to Bridgegate, a politically-motivated lane closure at the George Washington Bridge in 2013. Defendant Bill Baroni, former deputy executive director of the Port Authority of New York and New Jersey and a former political ally of Christie, along with Bridget Anne Kelly, former deputy chief of staff for the governor, are accused of creating traffic jams to punish Fort Lee Mayor Mark Sokolich, a Democrat, for not endorsing Christie's reelection in 2013.
Baroni and Kelly face federal charges of conspiracy and fraud related to Bridgegate. However, they claim that Christie's lawyers are hiding evidence linking him to the lane closures, WNYC reported.
The defense attorneys have said that the phone used by Christie during the lane closures is missing, a claim that federal prosecutors have confirmed. In addition, his legal team never investigated text messages that were sent to and from Christie during an important day of testimony during the initial Bridgegate investigation.
Another interesting claim is that Christie used his personal email address to communicate and deleted his text messages, despite claiming that Kelly's deleting of text messages was "evidence of guilt."