Trump revokes Washington Post press credentials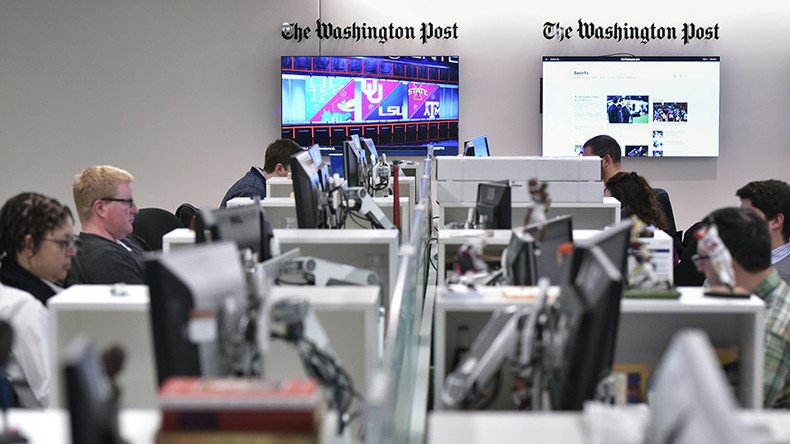 Presumptive Republican presidential nominee Donald Trump has revoked the press credentials of the Washington Post, citing the paper's "incredibly inaccurate coverage and reporting."
Trump called the newspaper, owned by Amazon mogul Jeff Bezos, "phony and dishonest," and accused the Post of bias against his "record-setting" campaign.
The billionaire businessman has previously revoked the credentials of Fusion – citing the pending lawsuit against its parent company Univision – and the Iowa newspaper Des Moines Register, but only to specific events.
Trump criticized the paper in December as a "scam" used by Bezos to keep taxes down at his "no profit company, Amazon."
Monday's decision may have been motivated by a Post article claiming that Trump "seemed to repeatedly accuse President [Barack] Obama… of identifying with radicalized Muslims" and of "being complicit" in the massacre at a gay club in Orlando, Florida on Saturday.
"For months, Trump has slyly suggested that the president is not Christian and has questioned his compassion toward Muslims," wrote Jenna Johnson, the Post reporter covering the Trump campaign.
"Years ago, Trump was a major force in calls for the president to release his birth certificate and prove that he was born in the United States. On the campaign trail, Trump has repeatedly stated as fact conspiracy theories about the president, his rivals and Muslims, often refusing to back down from his assertions even when they are proven to be false."
Later on Monday, The Washington Post's executive editor, Martin Baron, said that the Trump campaign's move to revoke Post's press credentials was "nothing less than a repudiation of the role of a free and independent press."
"When coverage doesn't correspond to what the candidate wants it to be, then a news organization is banished," he said.
According to Baron, the Post "will continue to cover Donald Trump as it has all along — honorably, honestly, accurately, energetically and unflinchingly." He added: "We're proud of our coverage, and we're going to keep at it."
The Washington Post's first issue was printed in 1877, making it the US capital's oldest newspaper still being published. Its primary focus has been national affairs and political reporting, with much coverage coming fresh from the White House and Congress.
Despite a history of not endorsing political candidates, the paper has occasionally done so. Its editorial board is diverse in its political beliefs, and the paper publishes several influential columns from both sides of the aisle.
You can share this story on social media: