Heavily armed man arrested while heading to LA gay pride event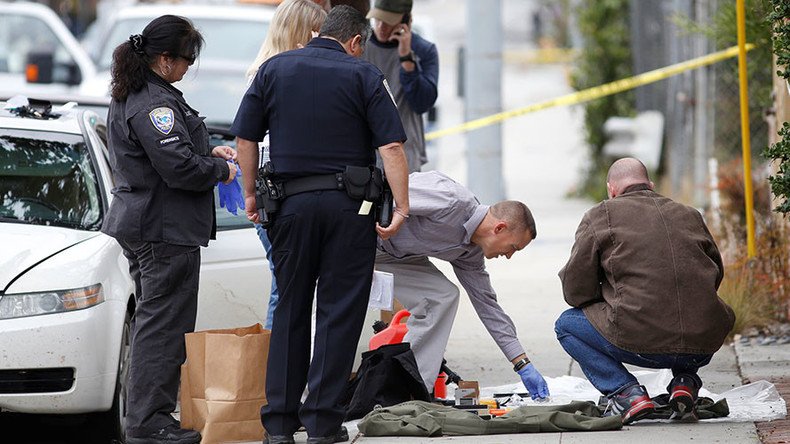 The Santa Monica Police Department has arrested a 20-year-old man driving a car full of guns and explosive materials. Police initially said he planned to "harm" the LGBT community in Los Angeles, the same day that a shooting rampage in Orlando claimed 49 lives.
READ MORE: Deadliest mass shooting in US history: 50 dead, 53 injured in Orlando gay club massacre
Authorities have identified the man as 20-year-old James Howell from Indiana. He was arrested in the early hours of Sunday morning, in a Santa Monica neighborhood, accompanied by an arsenal of weapons, which he reportedly wanted to use against the pride march in West Hollywood later in the day.
Howell was detained shortly after 5:00am after neighbors called the police following the Howell's suspicious behavior. SMPD found Howell seated in his car, which had Indiana plates, when they arrived at the scene.
When the officers approached, the suspect told them that he had been waiting for a friend, the LA Times reported, citing unnamed sources. Authorities are now looking for that alleged accomplice.
Searching the suspect's vehicle, police managed to recover "three assault rifles, high capacity magazines and ammunition," police spokesman Lt. Saul Rodriguez said. "Additionally, officers discovered a 5-gallon bucket with chemicals capable of forming an improvised explosive device."
Santa Monica Police Chief Jacqueline Seabrooks said on Twitter that Howell allegedly told an officer "of wanting to harm [the] gay pride event during [his] arrest for weapons and explosive materials possession."
Seabrooks later clarified, however, that the initial report of wanting to harm was "wrong."
READ MORE: Shooting victims in Orlando gay club carried from the scene (GRAPHIC VIDEO)
Discovering the arsenal in Howell's Acura, officers went on to notify the Los Angeles County Sheriffs' Department (LASD) Bomb Squad which arrived at the scene and assisted in the removal of the material. The Federal Bureau of Investigation (FBI) is also participating in the on-going investigation.
"Any possible nexus with this individual and the Pride event in West Hollywood is being investigated by the Federal Bureau of Investigation," read a statement issued by the Sheriff's Department.
Howell is being held in lieu of $500,000 bail pending a scheduled arraignment on Tuesday, LA County booking records show.
Despite the arrest, LA Pride went ahead as planned, with increased security measures, after federal and local law enforcement decided not to cancel the annual celebration, the LA Times reported.
"We are here … to say as Americans, we will not shrink away, we will not be stuck in our homes, we will not go back into the closets; we are out here to march, to celebrate and to mourn," said Los Angeles Mayor Eric Garcetti.
Officials said that they are continuing to clarify information regarding the suspect's actual motives, but for now they believe that the Santa Monica incident is not related to the shooting rampage at a gay nightclub in Orlando.
Follow RT's LIVE UPDATES on mass shooting at Orlando gay nightclub
The arrest of Howell came hours after a shooting spree at a gay nightclub in Orlando, which left 49 people dead and at least 53 others injured. The horrific attack is the deadliest of its kind to have occurred on American soil.
Initially police announced that 50 people had been killed, apparently mistakenly counting Mateen as a victim.
You can share this story on social media: