No charges for 'attentive' mother in Cincinnati Zoo gorilla death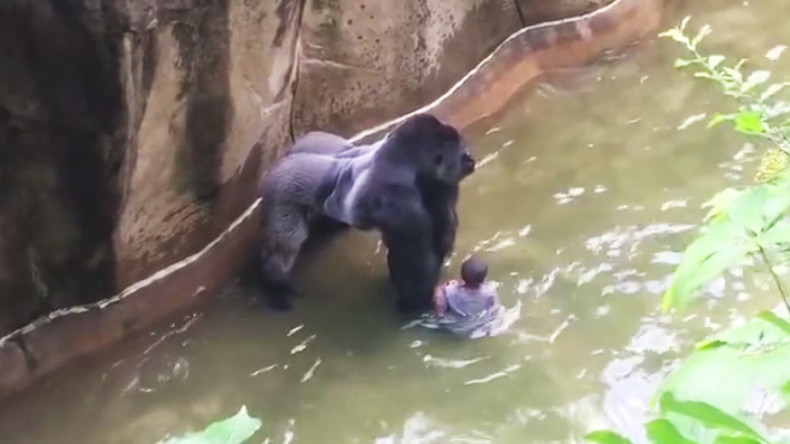 The mother of a boy who fell into the gorilla enclosure at the Cincinnati Zoo – prompting staff to fatally shoot the endangered male gorilla out of safety concerns – will not face criminal charges, after an investigation ruled she was not negligent.
On May 28, Michelle Gregg's three-year-old son climbed through the fence and fell into the moat surrounding Gorilla World. About 10 minutes later, zoo staff shot and killed Harambe, a 17-year-old male western lowland gorilla, who had picked up the boy and carried him around.
Online outrage ensued, with many blaming Gregg's negligence for allowing the boy to enter the enclosure, and demanding an investigation. After looking into the incident, however, the authorities decided not to press charges against Gregg.
Read more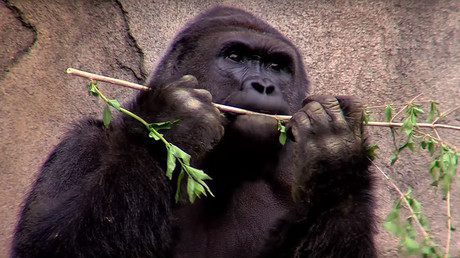 "I am very sorry about the loss of this gorilla but nothing about this situation rises to the level of a criminal charge," Hamilton County prosecutor Joseph Deters said Monday, adding that "the zoo did the right thing when they took immediate action to save the life of a young child."
Deters specifically addressed the social media condemnation of Gregg, saying that what took place at the enclosure could have happened to "even the most attentive parent."
Four witness testimonies given to Cincinnati Police Department investigators did not depict her as negligent, he added.
"None of the witnesses interviewed described the mother as anything but attentive to her children," Deters said in a statement. "Our information is that the mother turned away for a few seconds to attend to another one of her young children and that is when the three-year-old was able to climb into the gorilla enclosure."
Deters noted that Gregg was visiting the zoo that day with four children, aged seven, four, three and one. They were accompanied by a friend and her two sons, a teenager and a seven-year-old.
"Had she been in the bathroom smoking crack and letting her kids run around the zoo, that would be a different story," the prosecutor said, according to WXIX-TV.
The family was relieved by the decision, saying they wanted to put the "tragic episode" behind them.
"The family is very pleased with this decision; it is what we expected. This is one more step in allowing us to put this tragic episode behind us and return to our normal family life. We extend thanks to all of those who have been praying for us and who have supported us through this trying ordeal and praise to God for His mercy and grace," they said in a statement.
The decision not to prosecute backs up Gregg's version of events, argued in a Facebook post that has since been removed due to public backlash.
"I keep a tight watch on my kids," Gregg wrote last week, adding, "Accidents happen."
Cincinnati Fire Department staff at the scene described the gorilla "violently dragging and throwing the child." Zoo officials decided against using a tranquilizer dart, believing that Harambe would injure the boy before the drug could take effect. Instead, the Dangerous Animal Response Team shot and killed the 400-pound gorilla with a long rifle.