'Parental negligence': Thousands sign petitions condemning killing of Cincinnati Zoo gorilla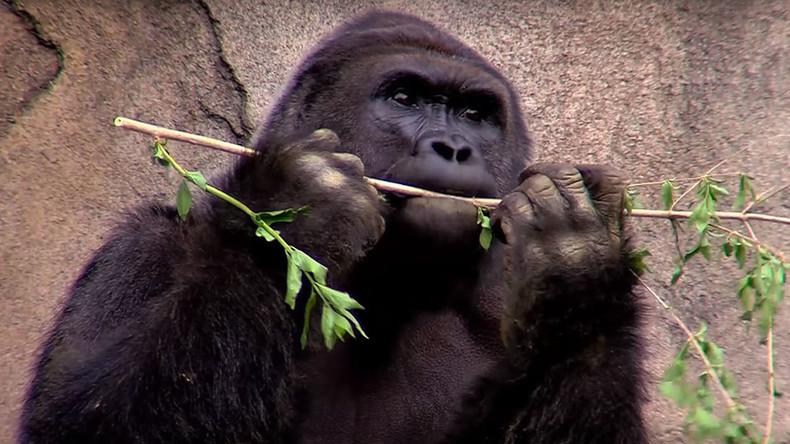 The killing of a Cincinnati Zoo gorilla after a child fell into its enclosure has sparked outrage online with tens of thousands of people signing petitions calling for the child's parents to be investigated.
The 181-kg male gorilla, known as Harambe, was killed on Saturday after a four-year-old boy climbed through a public barrier at the zoo's Gorilla World section and then fell into the exhibit's moat.
A number of petitions have been launched on Change.org, one of which, entitled "Justice for Harambe," has accrued over 160,000 signatures.
READ MORE: Cincinnati Zoo gorilla killed after 4yo kid falls into exhibit moat (VIDEO)
The petition describes as "heartbreaking" the decision to kill the "beautiful gorilla" instead of using a tranquiliser, before going on to criticise the child's parents for "not keep[ing] a closer watch on the child."
"We the undersigned believe that the child would not have been able to enter the enclosure under proper parental supervision," the petition reads.
"It is believed that the situation was caused by parental negligence," it adds, before calling for "the parents to be held accountable for the lack of supervision and negligence that caused Harambe to lose his life."
The authors of the petition don't stop there, however, then calling into question the "child's home situation."
The signatories "actively encourage an investigation of the child's home environment in the interests of protecting the child and his siblings from further incidents of parental negligence that may result in serious bodily harm or even death."
Zoo Director Thane Maynard said the 17-year-old gorilla didn't appear to be attacking the boy, but it was "an extremely strong" animal in an agitated situation, so the Zoo's Dangerous Animal Response Team had to respond to the "the life-threatening situation and made the difficult decision to dispatch the gorilla."