Verizon, labor union reach deal in principle ending 6-week strike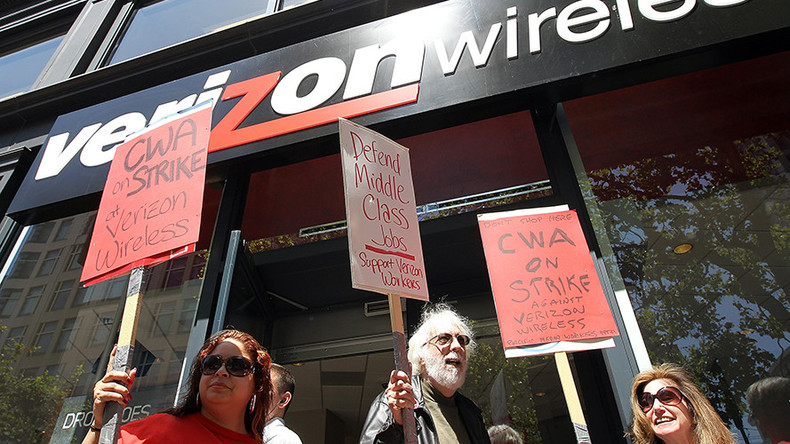 Secretary of Labor Thomas E. Perez has announced that a deal has been reached between telecommunications giant Verizon and unions representing 39,000 workers, ending a six-week strike over cuts to pensions and pay.
The strike started on April 13 when some 35,000 workers walked off the job, making it the largest strike in US history. The striking workers included network technicians and customer service representatives in the company's FIOS Internet, telephone and television services unit.
Read more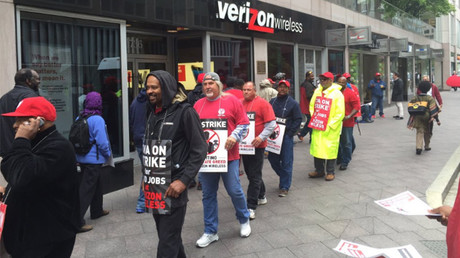 Described by Perez as a "tentative resolution," Verizon's workers, unions and management have reached an agreement in principle on a four-year contract.
"Throughout the past 13 days of negotiations at the Department of Labor, I have observed firsthand the parties' good faith commitment to narrowing differences and forging an agreement that helps workers and the company," Perez said in a statement Friday.
Perez also said that he expects "that workers will be back on the job next week," before commending all parties involved "for their commitment to resolving these difficult issues in the spirit of constructive engagement."
The strike saw between 36,000 and 39,000 members of the Communications Workers of America (CWA) and International Brotherhood of Electrical Workers (IBEW) argue that, with the company making $1.8 billion in profits a month, Verizon shouldn't cut pensions, benefits and pay.
There were reports of up to 57 "suspected incidents of sabotage" to Verizon equipment in the first two weeks of the strike alone, particularly in New Jersey, New York and Massachusetts.
This included fiber optic cabling and phones lines being sliced or cut, causing power outages and services being dropped, including access to some 911 emergency services.
Although Verizon hired 10,000 temporary replacements for the striking workers, the company struggled to meet demand. Last Thursday, the telecom's chief financial officer admitted that new orders for and installations of its fiber-optic network, called FIOS, had "significantly dropped," causing Verizon shares to slip by 1.49 percent.
The strike is also expected to affect the latest employment figures because the striking workers, who were not paid while off the job, were classified as being unemployed during this period.
Nonfarm payroll growth is expected to be depressed in May's figures by at least 35,000, according to Reuters.
The strike gained nationwide attention on its first day, when both Democratic candidates for president, Bernie Sanders and Hillary Clinton, met with protesters. Sanders also endorsed the unions' demands.
At the beginning of May, the CWA officially filed a complaint with the Federal Communications Commission, accusing Verizon of using "institutional deception" to bully customers into switching over to FIOS.