Strikers persist as Verizon shares slip & White House gets involved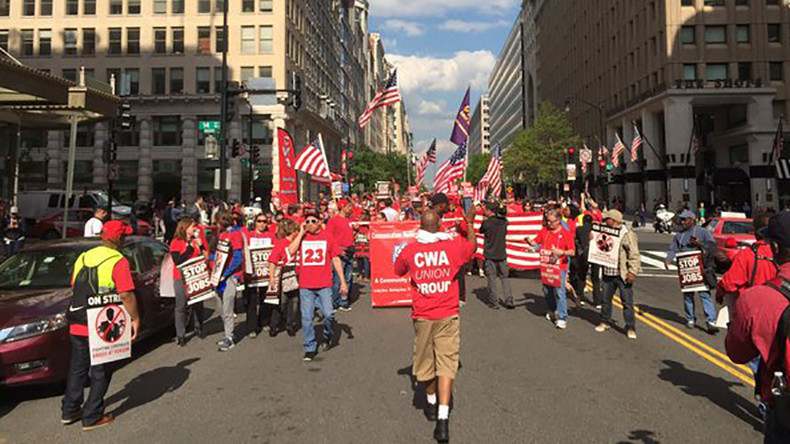 Five weeks into a strike by nearly 40,000 workers, the Obama administration is pushing Verizon and the strikers to reach a deal. Strikers marched on the White House on Thursday, backed by other unions in a show of solidarity.
The strike began on April 13 with the participation of between 36,000 and 39,000 members of the Communications Workers of America (CWA) and International Brotherhood of Electrical Workers (IBEW), most of whom work on Verizon's wireline services along the East Coast. The strikers say that a company making $1.8 billion in profits a month should not be looking to cut back on pensions, benefits, and pay.
Verizon refused to give in to strikers' demands, hiring 10,000 temporary replacements, and saying the strike would not impact service levels. The company also maintained a hard line in talks, saying that the "last, best, final" offer was made on April 28.
The unions said no. Healthcare benefits for the striking workers – and their families – expired on April 30, leaving up to 110,000 people without coverage. The strike continued.
Verizon shares slipped by 1.49 percent to $49.63 on Thursday, after the company's Chief Financial Officer admitted that the strike had put a dent in new business.
New orders for and installations of the company's optic fiber service (FiOS), have "significantly dropped," CFO Fran Shammo told the MoffettNathanson investor conference in New York, according to Fortune magazine.
Hundreds of CWA and IBEW workers marched on the White House on Thursday, joined by other unions from across Washington, DC.
Both sides were already back at the negotiating table, however. The Obama administration stepped into the fray as the strike entered its second month. On Sunday, Labor Secretary Thomas Perez met with Verizon CEO Lowell McAdam, CWA president Chris Shelton, and IBEW president Lonnie Stephenson.
Both sides agreed to a new round of negotiations overseen by Alison Beck, a lawyer with the Federal Mediation and Conciliation Service. They also agreed not to comment on the ongoing talks.
"We will continue to facilitate conversations to help the unions and the company reach an agreement," Perez said in a statement.
The unions are fighting to keep good middle-class jobs in America and are determined to stop Verizon's efforts to outsource them, CWA coordinator Peter Sikora told RT.