FBI: No deadline or 'special set of rules' in Clinton email investigation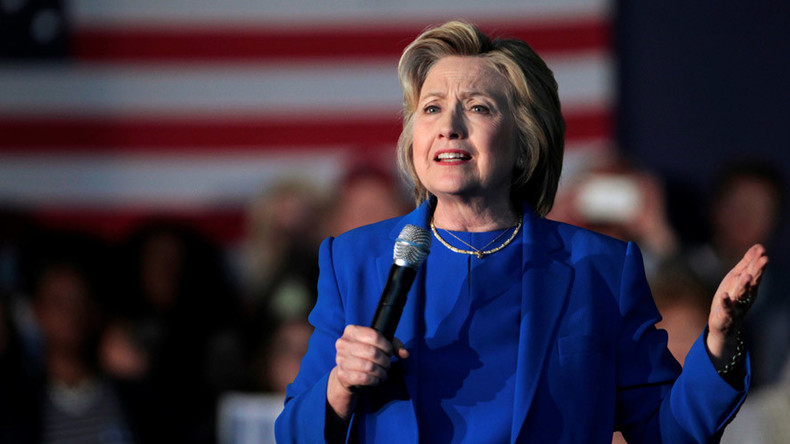 FBI Director James Comey single-handedly destroyed a narrative constructed by the Hillary Clinton presidential campaign that she is merely under a "security inquiry" for her use of a private email server while Secretary of State, by classifying it as an investigation.
"I don't even know what that means, a 'security inquiry'. We do investigations here at the FBI," he said to reporters on Wednesday, adding there would be "no special set of rules for anybody that the FBI investigates."
Comey also said he won't be rushed into finishing the investigation into Hillary Clinton's email server by the small matter of the US general election.
"In any investigation, especially one of intense public interest, we want to do it well, and we want to do it promptly," he said. "So I feel pressure to do both of those things."
"I don't tether to any particular external deadline," he added.
The investigation into the Hillary Clinton email server has been played down by the Clinton camp and amplified by Republicans.
The Republican National Committee filed a lawsuit to access Clinton's emails and Blackberry communications sent during her time as the country's top diplomat.
Clinton referred to the investigation as "no big deal" on Sunday, telling CBS's Face the Nation that it was a "security inquiry" and that she was looking forward to it being "wrapped up."
As the Democratic convention draws closer, more attention is being paid to the investigation and what it could mean for the general election in November. While Clinton continues to downplay it, recent developments continue to suggest she may be indicted.
A former State Department IT employee Bryan Pagliano was offered immunity earlier this year for his cooperation.
The State Department announced on Monday that it is still unable to find any of his emails from his time as an employee, CNN reports.
Marcel Lehel Lazar aka "Guccifer", the hacker who broke into Clinton's server in 2013, was extradited to the US in April to answer questions. Longtime Clinton aides Cheryl Mills, Huma Abedin, and others have been questioned by investigators.
There is concern that the findings will be released or Clinton will be indicted right before the general election, in what historically is called an "October Surprise", essentially throwing the election to presumptive Republican nominee Donald Trump.
Even though he was appointed by President Barack Obama, Comey is a Republican and some suggest his investigation is purposely being timed so as to create maximum impact.
FBI Director James Comey is a hardcore Republican tho, he could fuck the entire Dem Party by indicting Clinton on the last day of the DNC.

— Franklin Hammond (@FranklinLH808) April 28, 2016
@Foxnews At what point do we finally say for sure that Comey and the FBI are slow-walking the Clinton Investigation? Probably NOW!

— Nate (@ItsElementary__) April 29, 2016
Sanders supporters argue that the risk of a Clinton scandal blowing up is why their candidate is a better choice, as well as polls that show the Vermont senator beating the billionaire Trump, while new polls show Clinton would either be tied with Trump or trailing come November.
READ MORE Trump surges into virtual tie with Clinton in general election poll

Even if nothing comes of the investigation, Trump has already made it clear he will use emails as a form of attack in a general.
The New York Times reports he emailed a statement about her emails on Wednesday.
"Typical Hillary Clinton," he said. "Can never tell the truth, and in this case, it's a very big deal!"
Sidney Blumenthal, the longtime advisor to both Clintons who heavily features in the released emails, was questioned about Clinton's wording on CNBC's Squawk Box Thursday.
Blumenthal referred to it as an investigation, allowing the hosts to discuss Clinton's choice of terminology and his informal role while she was Secretary of State.
Blumenthal also denied accusations that Clinton Foundation donations influenced state department affairs.
"Reports show that there were not donations to the Clinton Foundation that had an influence on State Department policy," he said.