Clinton campaign taps ex-Goldman Sachs partner for Asian fundraisers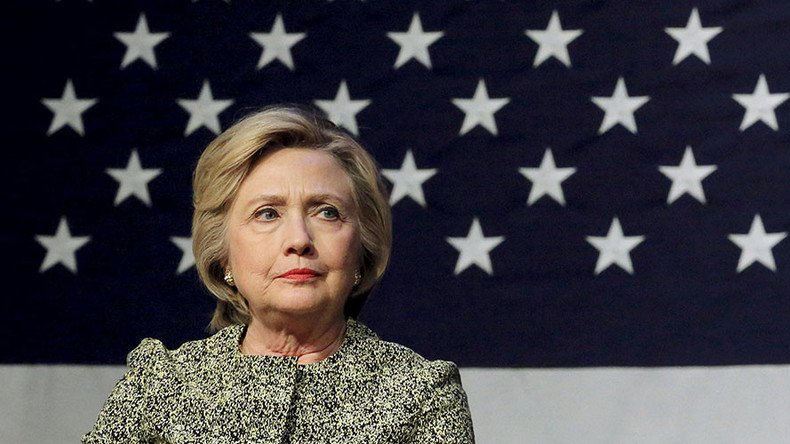 The presidential campaign for Democrat Hillary Clinton is hosting a number of fundraisers overseas in the coming weeks, despite past issues with money from foreign donors.
This Friday, while her opponent Bernie Sanders is in the Vatican discussing global poverty with the presidents of Bolivia and Ecuador among others, ex-Goldman Sachs partner Gary Gensler will host a fundraiser for Clinton in Hong Kong.
That will follow his Wednesday event in Beijing, China looking for campaign cash.
Sanders raises so much money that Clinton can't compete without doing the type of plutocrat fundraisers that further drive Sanders donors.

— Jesse A. Myerson (@JAMyerson) April 8, 2016
"Please note that involvement in the Hillary for America campaign is limited to US Citizens and permanent residents. Participants will be asked to provide documentation of their US passport or green card," a disclaimer on her website reads.
However, it's still dangerous territory, given previous campaign financing scandals like "Chinagate", the 20 foreign countries that donated to the Clinton Foundation, and Norman Hsu, a convicted pyramid scheme promoter and Hong Kong native who bundled almost $1 million for her US Senate war chest.
Hsu told The Wall Street Journal in a prison interview last year, "I was greedy."
@HillaryClinton tell.us how u accepted $900,000 from scam artist & felon Norman Hsu while u were campaigning for NY senate seat

— Veterans For Trump (@LovToRideMyTrek) March 30, 2016
While Sanders has smashed Barack Obama's fundraising records with millions in small, non-corporate contributions averaging $27, Clinton is starting to fall behind, raising $30 million less in February and March compared to the Vermont senator.
To help make up the difference, her campaign is holding big dollar fundraiser events in Asia, Brazil, Mexico, and London this month.
Joe and Sara Cerrell from the Gates Foundation will host a fundraiser in London this Sunday with Facebook's Chief Security Officer Joe Sullivan, who is also a policy advisor for Clinton's campaign and foundation. Rupert Murdoch attended the last London fundraiser for Clinton.
The home of former US ambassador for Mexico and Ukraine Carlos Pascual will be the site of the Mexico City event, featuring Melanne Verveer, Clinton's chief of staff when she was first lady.
Pascual is considered "the first casualty of WikiLeaks" after his comments about President Felipe Calderón and Mexico's military released by the whistleblowing website forced his resignation.
Walmart lobbyist Ivan Zapien co-hosted the last Clinton fundraiser in Mexico.
Clinton's ties to Wall Street, the fossil fuel industry, and powerful lobbyists have become a festering campaign issue, in part because they seem linked to controversial decisions she made as Secretary of State in the Obama administration.
She oversaw $165 billion in arms sales to 20 countries that donated to the Clinton Foundation, which she helped set up with her husband Bill, between 2010 and 2012.
Saudi Arabia donated more than $10 million to the Foundation before Clinton entered office.
In 2011, she engineered a $29 billion arms deal between the kingdom and a group of US defense contractors, including Boeing who donated $900,000 to the Foundation two months before the deal was finalized.
Algeria won a 70 percent increase in authorized US military exports after donating $500,000 to the foundation, which wasn't reported to the Obama Administration against the conditions set out for Clinton when she became America's top diplomat.
READ MORE: Repressive govts donated to Clinton Foundation, arms deals approved by Hillary's State Dept. - report
Her campaign also seems to be concerned with what is said at fundraising events, after it was revealed that a static noise machine was used to prevent the media from hearing her speech at Colorado Governor John Hickenlooper's house.
Hillary turned on a static noise machine so reporters couldn't hear what she was telling donors at a fundraiser: https://t.co/xVM3huNOHr

— privacytools.io (@privacytoolsIO) April 8, 2016
Hickenlooper, a Clinton superdelegate, has been mentioned as a possible vice-president pick for Clinton, but his influence wasn't enough to stop Sanders from winning the Colorado primary.
While some Clinton fundraisers have to observe the maximum donation limits set by campaign finance laws, her campaign cut a deal last August with the Democratic National Committee headed up by longtime Clinton supporter Debbie Wasserman-Schultz for 32 state parties to create a joint fundraising committee called The Hillary Victory Fund, opening a flood gate of cash.
READ MORE: Clinton bias accusations chase top Democrat Wasserman Schultz

"It would mark the earliest creation of a joint fundraising committee between a presidential candidate and the party, and it would be the biggest ever, thanks to a 2014 Supreme Court decision that knocked down a cap on how much donors could give to federal campaigns in a single year," The Washington Post wrote about the deal.
This raised the individual cap to $660,000 per person over two years and allowed the Clinton campaign to promise state superdelegates contributions to their party's re-election fund, thus securing their pledges long before the first primary took place.
READ MORE: Clooneys mocked for hosting $353k-per-couple Hillary Clinton fundraiser
INDUSTRY CONNECTIONS
Wall Street
Tom Nides, former deputy secretary of state, is now VP of Morgan Stanley. He has raised $205,198 through employees of the bank. Morgan Stanley donated $250,000 to the Clinton Foundation and paid Clinton $225,000 for a 2013 speech, after she had stepped down as Secretary of State.
Lloyd Blankfein, Goldman Sachs chairman, has donated the maximum $2,700 to Clinton for this campaign.
Goldman executives and employees contributed $750,000 to her campaigns over the years including $100,616 for this election cycle.
The firm itself has donated at least $250,000 to the Clinton Foundation and paid $1.2 million to Bill Clinton for speeches dating back to 2001, which helped them pay off legal fees associated with his impeachment trial related to his affair with White House intern Monica Lewinsky.
Private Prisons
Clinton's Ready for Hillary PAC received $133,246 in campaign donations from the prison lobbyists linked to GEO and CCA, a thank you for the mass incarceration of two million Black men after her husband signed the 1994 Crime Act.
Military Industrial
Clinton received the most money from arms and military companies than any candidate from either party in the presidential race.
Clinton's campaign chairman John Podesta's brother Tony runs the Podesta which counts Lockheed Martin, General Dynamics, Wells Fargo, Credit Suisse Group, KKR, and the countries of Iraq and Saudi Arabia as its clients. Working as a lobbyist bundler for Clinton, he has secured $75,000 in donations.
The Clinton foundation received millions of dollars during her time as Secretary of State. Boeing & Lockheed also among her campaign donors.

— Pareja (@ThinksEpic) February 26, 2016
Fossil Fuel Lobbyists
Clinton has received $1.4 million in contributions from lobbyists who represent clients from the fossil fuel industry, including Chevron, ExxonMobil, and Marathon Oil.
READ MORE: Clinton loses it when Greenpeace activist asks about her fossil fuel donors (VIDEO)
You can share this story on social media: