Clinton bias accusations chase top Democrat Wasserman Schultz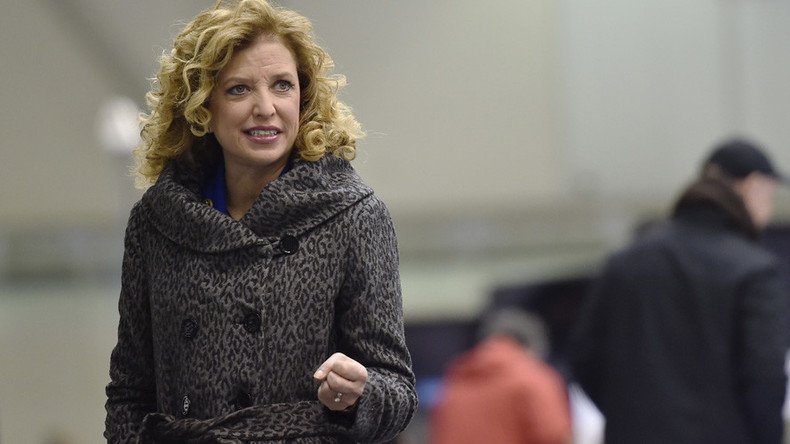 Florida Congresswoman Debbie Wasserman Schultz, the current chair of the Democratic National Committee and former co-chair of Hillary Clinton's 2008 presidential campaign, can't seem to shake accusations of bias in favor of the former Secretary of State.
As the polls tighten between Clinton and her main rival for the Democratic nomination, Bernie Sanders, Wasserman Schultz is facing a first-ever primary challenge for her congressional seat.
Tim Canova is appealing to the progressive wing of the party and district by accusing her of bias against Sanders.
"She has tipped the scales in favor of Hillary Clinton's presidential campaign, and made sure virtually no one would see the primary debates. She has stood in the way of the progressive movement, and she has consistently put her own political interests ahead of the Democratic Party," he said.
Canova decided to run against Wasserman Shultz because her stance on issues like Wall Street reform, the Trans-Pacific Partnership trade agreement, and big corporations did not align with the progressive beliefs of some party members.
She also supported the anti-net-neutrality bill SOPA and voted to remove part of the Dodd-Frank law that stopped big banks from using deposits for speculative financial derivatives.
Wasserman Schultz denies the accusations of bias toward Clinton, saying she would not be DNC chair if she wanted to favor a candidate.
Perhaps the biggest suggestion of bias lies in the charges that the DNC purposely limited Democratic debates and held them on weekends and nights with low audience ratings, such as the weekend before Christmas and at the same time as an NFL football game.
Some feel this was an effort to limit the time voters would be exposed to both Sanders and O'Malley's strengths, and Clinton's shortcomings.
Clinton's campaign had lobbied against an earlier proposal for eight debates.
The Democratic candidates had six debates, with only four held before the first of the caucuses in Iowa. The Republicans will have 12, and will have had seven before Iowa.
In 2008, there were 26 Democratic debates.
Unofficial debates have been banned by the DNC, with Wasserman Schultz threatening to ban any candidate that took part in an unsanctioned debate from the remaining debates.
This week, MSNBC and the Manchester Union Leader paper in New Hampshire organized an unscheduled debate for February 4.
Sanders and Clinton made statements that they would participate with the blessing of the DNC.
Wasserman Schultz released a statement Tuesday: "Our next DNC-sanctioned debate featuring our major candidates will be held in Milwaukee, Wisconsin hosted by PBS on February 11th, with another already scheduled for March 9th with Univision and the Washington Post. We have no plans to sanction any further debates before the upcoming First in the Nation caucuses and primary, but will reconvene with our campaigns after those two contests to review our schedule."
Other accusations against the DNC chair include the controversial cutting off the Sanders campaign's access to voter data following a data breach, due to an external firewall issue.
READ MORE: Thanks Hillary! Sanders raises $1.4 mn in a day after Clinton attacks backfire
Both Sanders and his supporters blamed Wasserman Schultz for blocking them and making a statement without warning the campaign.
The DNC is also accused of packing the audience with Clinton supporters for the second debate in Iowa. Tom Fiegan told the Washington Times: "People are frustrated at how small the venue was and the lack of transparency from the DNC of how it was handled — the allocation of tickets was a total secret."
Other party members have spoken out against the debate schedules.
DNC finance chair Henry Munoz III reportedly helped organize a fundraiser for Clinton, in violation of rules that state all DNC members must be impartial. Wasserman Schultz did not reprimand Munoz.
A petition to remove the DNC chair started by Roots Action called into question the choice of questions during the debates for failing to address important issues: "For example, climate change and the Trans-Pacific Partnership."
"In Congress, [Wasserman Schultz] has served as a pro-militarist and corporatist tool of the high bidders," Roots Action said. "Among recent disgraceful acts was her vote to enable racial discrimination in car buying. Enough is enough."
Wasserman Schultz is seen by some as an establishment politician whose beliefs do not align with more progressive elements of the Democratic party, particularly the new, younger Sanders supporters.
In 2016 alone, she has received contributions from Goldman Sachs, Comcast, Google, and Lockheed Martin.
Wasserman Schultz is against legalizing medical marijuana for both medical and recreational purposes, and has received fundraising from alcohol lobbyists ($18,500) and private prisons.
She made comments about young women's complacency on abortion rights when asked about young women and excitement surrounding Clinton's campaign.
Some felt this was a dig at female voters supporting Sanders over Clinton.
A USA Today/Rock the Vote poll showed women under 35 support Sanders over Clinton by 20 points.
Writing on his blog Saturday, former Green Party and independent presidential candidate Ralph Nader warned Sanders of other "corporate" Democrats trying to derail the Vermont senator's campaign.
In a piece titled "Hillary's Corporate Democrats Taking Down Bernie Sanders", Nader wrote: "Before announcing for President in the Democratic Primaries, Bernie Sanders told the people he would not run as an Independent and be like Nader—invoking the politically-bigoted words 'being a spoiler'. Sorry Bernie, because anybody who challenges the positions of the corporatist, militaristic, Wall Street-funded Democrats, led by Hillary Clinton, in the House and Senate—is by their twisted definition, a 'spoiler'."
He highlighted comments by centrist Democratic California Congressman Adam Schiff about Sanders's electability, who suggested he could have "very significant downstream consequences in House and Senate races".
Nader also referenced the "poisoned darts" thrown by former House Speaker Nancy Pelosi this week at Sanders, distancing her wing of the party from his call to raise taxes to pay for Medicare-for-all, single-payer health care.
"He's talking about a single-payer, and that's not going to happen," she said. "I mean, does anybody in this room think that we're going to be discussing a single-payer?"
Nader concluded in his piece: "Pelosi doesn't expect the Democrats to make gains in the House of Representatives in 2016. But she has managed to hold on to her post long enough to help elect Hillary Clinton - no matter what Clinton's record as a committed corporatist toady and a disastrous militarist (e.g., Iraq and the War on Libya) has been over the years."
You can share this story on social media: