Clinton loses it when Greenpeace activist asks about her fossil fuel donors (VIDEO)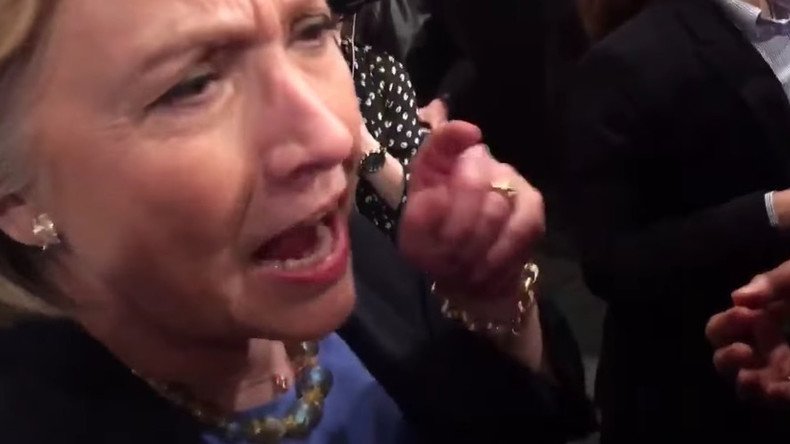 Democratic presidential hopeful Hillary Clinton was captured losing her cool Thursday when confronted by a Greenpeace activist about the millions of dollars in direct and indirect donations she receives from the fossil fuel industry.
"Regarding climate change, can we have your word that you'll reject fossil fuel money in the future for your campaign?" Greenpeace "democracy organizer" Eva Resnick-Day asked.
"I don't have money from people who work for fossil fuel companies," Clinton claimed, before bizarrely blaming her surging opponent, Vermont senator Bernie Sanders, who had nothing to do with the question. "I am so sick, I am so sick of the Sanders campaign lying about me. I'm sick of it."
Let's be clear. I do NOT work for the sanders campaign. I work at @greenpeaceusa & we asked all candidates to reject fossil fuel money.

— Eva Resnick-day (@eresnickday) April 1, 2016
Responding to the former US Secretary of State's accusations, Resnick-Day said Greenpeace USA along with 20 organizations had asked all presidential candidates to reject future contributions from fossil fuel companies.
Clinton's campaign failed to sign the pledge while Sanders did immediately.
"I was genuinely shocked by her response," the activist said. "But I want to make sure we are focused on the issue at hand: asking our candidates to take a stand to fix our democracy. Rejecting fossil fuel money sends a strong signal."
The Clinton campaign accepted at least $160,000 in direct donations from the fossil fuel industry, according to the Annenberg Foundation, while Priorities USA Action, a "Pro-Hillary Clinton Super PAC" that raised $40 million in 2015, raised $3.25 million in contributions from employees of fossil fuel companies.
The PAC's notable donors include controversial Israel financer Haim Saban, billionaire George Soros, and beloved Hollywood director Steven Spielberg, who all forked out $1 million each for Clinton's campaign.
READ MORE: Clooneys mocked for hosting $353k-per-couple Hillary Clinton fundraiser
Despite her vow to "end" climate change if she wins the presidency, millions were also donated to The Clinton Foundation, the charity she set up with her husband Bill, by fossil fuel companies such as ExxonMobil, Duke Energy, and Anadarko Petroleum.
You can share this story on social media: