West Virginia and Nebraska primary results: What they mean for 2016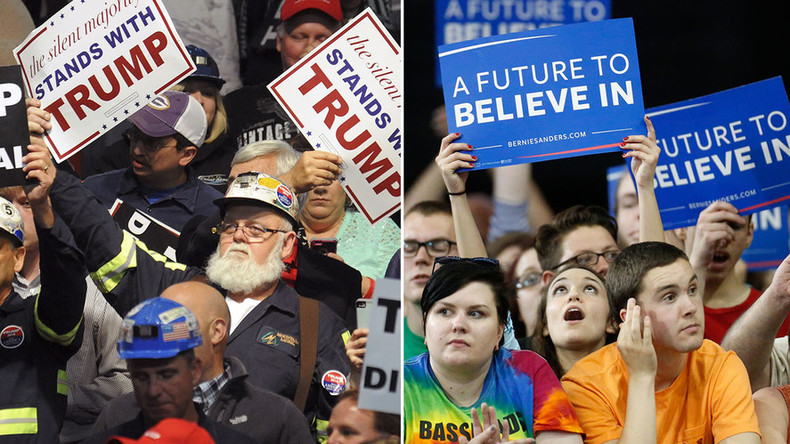 Hillary Clinton and Donald Trump may be their parties' presumptive nominees, but Bernie Sanders' victory in the West Virginia primary has a real chance to alter the course of the 2016 campaign.
With 25 percent of precincts reporting, Sanders was announced the winner with 49.7 percent of the vote while Clinton had 39.6 percent of the vote, according to AP.
With zero percent of precincts reporting, Donald Trump was announced the winner in West Virginia and Nebraska by the Associated Press.
"Let me be clear, we are in this campaign to win the Democratic nomination," Sanders told a raucous crowd in Salem, Oregon Tuesday night. The Oregon primary is May 17, and while Sanders needs more than 66 percent of the remaining share of the delegates to catch up with Clinton, his campaign's lasting strength is likely to impact the Democratic Party's platform at their national convention.
Mainstream pundits are not the only ones declaring Trump and Clinton as the rightful heirs to the presidential nominee thrones of their respective parties'. Pollsters are hard at work shaping the general election as well.
Quinnipiac released a poll Tuesday showing the former secretary of state and billionaire businessman in a virtual tie in major swing states. While Clinton has 43 percent against Trump's 42 percent in Pennsylvania and Florida, while Trump claims a slightly stronger lead – though still within the margin of error – in Ohio, with 43 percent to Clinton's 39 percent.
Polls are bound to change, but it matters which way. The results of West Virginia and Nebraska very well might work for or against the narratives in the upcoming Republican and Democratic national conventions taking place July 18-21 in Cleveland and July 25-28 in Philadelphia, respectively.
If Sen. Sanders manages to defeat Clinton in West Virginia, or if Sen. Cruz shocks with a win over Trump in Nebraska, the road to the White House could get even bumpier.
A Sanders victory in West Virginia would partly be due to voters' rejection of Clinton's anti-coal comment from a town hall in March.
"We're going to put a lot of coal miners and coal companies out of business," she said. Recently, she has called that comment a "mistake."
And while Cruz did suspend his campaign after last week's Indiana primary loss, he was once considered a favorite for the Nebraska primary. On Tuesday, Cruz alluded to the possibility of returning to the primary process if he saw a "path to victory."
"We launched this campaign intending to win. The reason we suspended the race last week is with Indiana's loss, I didn't see a viable path to victory," Cruz said on the Glenn Beck radio program. "If that changes, we will certainly respond accordingly."