Detroit resumes water shutoffs that could impact 20,000 customers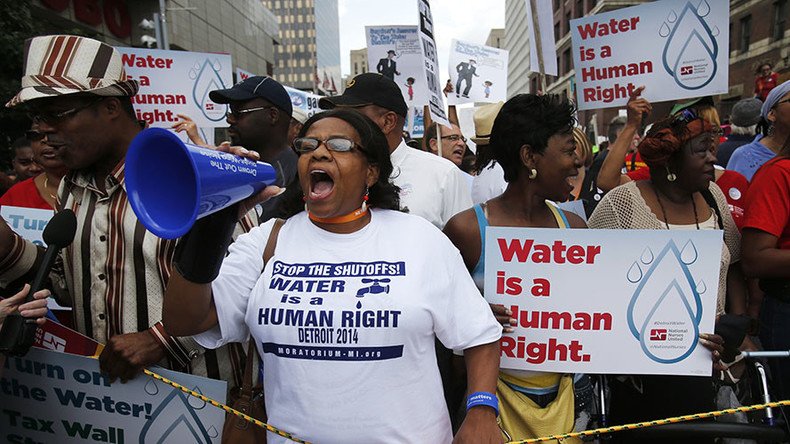 The Detroit Water and Sewerage Department announced it will begin turning off water service for as many as 20,000 of its customers who are behind on paying their bills. The shutoffs resume after a stoppage in mid-November.
After delaying the shutoffs by one day, Detroit Water and Sewerage Department Director Gary Brown gave the go-ahead on Tuesday to begin addressing service for customers who owe more than $150. Those who owe less than $150 and are only a couple of months behind will not be targeted, Linda Clark, a spokeswoman for DWSD, told the Detroit News.
Clark said as of early Monday, there were about 20,000 customers who could face shutoffs, though many people are attempting to update their payment status.
"We're receiving payments (on overdue accounts) every minute," she said. "We're also getting more than 250 phone calls coming in an hour. There aren't any hard numbers at this point. It's difficult to say because of the number of payments we're processing."
No particular area of the city will receive more attention, Clark said, adding that customers who are at 150 percent of the federal poverty level or below can receive assistance for paying their bills. The DWSD also has payment-installation plans available. About 30,000 of DWSD's 200,000 customers, both residential and commercial, on are payment plans, the Detroit News reported.
Activists have encouraged customers behind on payments to seek out installation plans.
"I can't take one more summer of shutoffs happening," said DeMeeko Williams, chief coordinator for the Detroit Water Brigade, an organization that offers assistance to DWSD customers facing water shutoffs.
In April, the DWSD said that, in order to save money, it was ceasing to post shutoff notices on homes of customers behind on payments. Detroit Mayor Mike Duggan disagreed with the decision, saying he will ensure the notices will continue, according to the Detroit Free Press.
Detroit's original decision to cut off water services for thousands of people in 2014 sparked criticism from around the country and the world, with some United Nations experts saying denying water to people could be a violation of human rights.
Following a visit to Detroit in 2014, Catarina de Albuquerque, the UN's Special Rapporteur on the human right to water and sanitation, and Leilani Farha, the UN's Special Rapporteur on the right to adequate housing, said Detroit's water shutoffs occurred at an "unprecedented scale."
"It is contrary to human rights to disconnect water from people who simply do not have the means to pay their bills," de Albuquerque said.
In February, members of the Detroit Water Brigade offered testimony to the United Nations Commission for Social Development regarding water shutoffs in Detroit and the tainted water supply in nearby Flint, Michigan.
"All eyes are on Detroit and Flint now: We live in a developed country, developed cities, but we're living in Third World conditions," Beulah Walker, a chief coordinator of the Detroit Water Brigade, said prior to the meeting.
As of early February, the Detroit Water Brigade estimated that about 17,000 people in Detroit are without running water, according to the Free Press. In January, the Detroit City Council refused to approve a plan that would have reduced rates for poor customers.
"They live in extreme poverty due to no fault of their own," Walker said.
DWSD previously stopped water shutoffs in November 2015, a spokesman told the Free Press in February.
In Flint, the city's 100,000 residents have been exposed to potential lead poisoning after a decision to switch the city's drinking water supply to the contaminated Flint River. The financially strapped city was under the control of a state-appointed emergency manager in April of 2014, when it switched its source of tap water from Detroit's system to the nearby Flint River in a cost-cutting move. Operators at Flint's water treatment plant failed to treat the water to make it less corrosive, causing older lead pipes to dissolve into the tap water. State health authorities ultimately confirmed that elevated blood-lead levels had been found in children.
State officials long insisted the water was safe to drink. In October, the water supply was switched away from the Flint River. As of April 11, some 12 Flint residents have died with ailments associated with Legionnaires' disease, which many believe is connected to the city's tainted water supply.
Three officials have been charged in relation to the poisoned water, including Michael Glasgow, the city's water quality supervisor.
Nearly 60 percent of Flint's population of 100,000 are Black, with 42 percent of residents living below the poverty line, according to the US census.
On Wednesday, President Barack Obama will visit Flint where he will meet with embattled Michigan Governor Rick Snyder. "The governor is pleased to meet with the president to help explain the efforts underway by the state to help the people of Flint recover," a spokesman for Snyder told The Hill.
You can share this story on social media: