3 Michigan officials charged over Flint water crisis as federal judge tosses $150mn lawsuit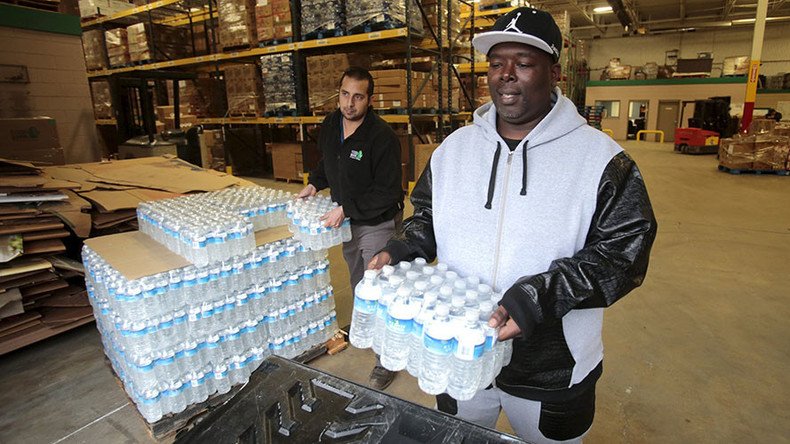 Three Michigan officials were charged in connection with the Flint water crisis on Wednesday, just a day after a federal judge threw out a $150 million class-action lawsuit over the lead-contaminated water, claiming the courts lack jurisdiction.
Update: Calling the charges "deeply troubling" and "extremely serious," Gov. Rick Snyder said the suspected state officials were suspended without pay.
Criminal charges were filed against two officials from the Michigan Department of Environmental Quality (MDEQ) and one individual from the Flint water treatment plant, the Detroit News reported. The charges all stem from the lead contamination of water in Flint, which occurred after the city tapped the corrosive Flint River as a drinking supply and failed to properly treat the water.
MDEQ district engineer Michael Prysby was hit with six charges, including misconduct in office, tampering with evidence, conspiracy to tamper with evidence, and engaging in treatment violations, Detroit Free Press reporter Elisha Anderson tweeted.
Stephen Busch, the drinking water office's district supervisor for Lansing and Jackson, faces five charges, including misconduct in office, conspiracy to tamper with evidence, tampering with evidence and engaging in treatment violations. Emails released by the state show that back in March 2013, Busch wrote that using the Flint River for drinking water might "pose an increased microbial risk to public health" and "pose an increased risk of disinfections by-product (carcinogen) exposure to public health."
Michael Glasgow, who worked as Flint's water quality supervisor, faces two charges, including tampering with evidence and willful neglect of duty as a public servant. Glasgow was in charge of making sure the water sampling process in Flint complied with federal law under the Lead and Copper Rule. He confirmed that all homes sampled had their water delivered via lead service lines even though that was not the case.
"This is a case where, hopefully, the accused misconduct of a handful will not create issues with tens of thousands of good, hardworking people doing the right thing to make Michigan a better state," Snyder added.
Since the water from the Flint River was not properly treated, it leached away lead from service lines in the city and became contaminated, exposing the population to poisoned water.
Notably, more charges against other individuals are expected as the investigation by Michigan Attorney General Bill Schuette unfolds.
The charges come one day after a federal judge dismissed a class-action lawsuit over the contaminated water, potentially signaling that other similar lawsuits at the federal level could be dismissed as well.
In his ruling on Tuesday, US District Judge John Corbett O'Meara said that in order for federal courts to have jurisdiction over the case, the plaintiffs needed to make claims of wrongdoing under the federal Safe Drinking Water Act (SDWA) – something they did not do because the law does not allow for those harmed to seek damages.
The judge said that the core constitutional claim the plaintiffs alleged is that they were deprived of "safe and potable water," which is addressed by regulations that have been established by the Environmental Protection Agency under the SDWA.
"Because plaintiffs... have not asserted a claim under the SDWA, only state claims remain. Accordingly, the court finds that it lacks subject matter jurisdiction over [the] plaintiffs' complaint," O'Meara wrote in his dismissal.
In their lawsuit filed on January 31, the plaintiffs claimed that their constitutional rights were violated and sought $150 million in damages for Flint residents who paid water bills throughout the crisis. They argued that while they paid these bills, the city of Flint and the state of Michigan provided water with "dangerous levels of lead" in it. It also wanted all damaged water lines to be replaced.
The lawsuit named a variety of players in the crisis, including Michigan Governor Rick Snyder, former state-appointed emergency managers of Flint Darnell Earley and Gerald Ambrose, former Flint Mayor Dayne Walling, and state regulatory agencies.
Flint attorney Valdemar Washington told AP that the lawsuit was not filed under the SDWA because that law only allows plaintiffs to seek injunctive relief, which could force the state to stop providing contaminated water but would not award damages to residents.
Washington said that the lawsuit would be re-filed in Michigan circuit court or the Michigan Court of Claims.
"The dismissal is not a determination of the merits. It's simply saying what you have pleaded, this court cannot hear because all these claims are precluded by federal Safe Water Drinking Act," he told the Detroit News. "It's another speed bump in the road of life."
While this case is destined for state courts, the question remains whether other federal lawsuits over the crisis will also be dismissed. In the case that was dismissed, the claims centered on monetary harm for residents who paid water bills. A lawsuit filed in November, however, targets those who made the original decision to leave the Detroit water system, which complied with EPA safety regulations, and tap the Flint River as a drinking supply. The plaintiffs in that case allege city and state officials violated their constitutional, civil, and due process rights.
"In our case, the focus is on the egregious government conduct which deprived our clients of their rights without due process. Our case is all about the unlawful deprivation of rights without due process," attorney Michael Pitt told the Detroit News. Because of that, Pitt believes the SDWA won't stop his case from moving forward.
You can share this story on social media: