Cutting off water to Detroit's poor 'an affront to human rights,' says UN
Residents of Detroit, Michigan who are $150 or two months past-due on their water bills are having their water shut off by the bankrupt city. Now, even the United Nations has stepped in, saying Detroit is in violation of the human right to water.
The Detroit Water and Sewerage Department (DWSD) is facing $5 billion in bad debt, and is scrambling to recoup its losses. The city, which filed the largest municipal bankruptcy in history last year, argues that the financial burden of paying water bills has been put on the back burner by many families who didn't believe services would be shut off. Those bills have gone up 120 percent in the past decade, well beyond the national average.
"We sent out a little over 46,000 shutoff notices in May. Of those 46,000 shutoff notices, about 4,500 were actually shut off," Greg Eno, a DWSD public affairs specialist, told RT.
Within 24 hours, 60 percent of the affected customers paid their accounts in full and had their service immediately restored. Forty percent of the remaining customers had their service restored within 48 hours, DWSD said in a statement.
"Many of the properties that we shut off are actually vacant structures, not occupied homes," DWSD Director Sue McCormick said.
The public utility has threatened to cut off water to 150,000 Detroit residents so far, and the shutoffs could affect up to 300,000 of the city's poor African-American community, according to the Root. Since March, water service for up to 3,000 customers per week has been cut off.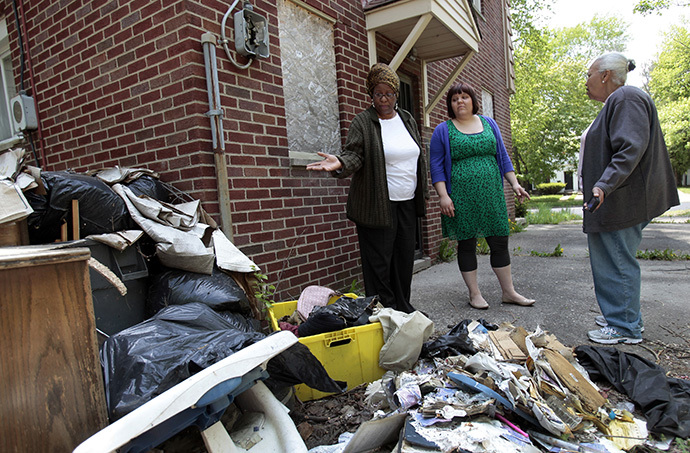 Carla Walker-Miller, president and founder of the Water Access Volunteer Effort (WAVE) Fund, disputes that people in arrears are choosing not to pay their bills. "The assumption is made by a lot of people that those are 60 to 70 percent of people who just had the money lying around and decided not to pay," she told RT.
"I'm more likely to assume that those are people who decided once their water was shut off, not to buy their medicine, not to eat that evening, not to do something that's really important because, again, we're talking about a low income population here in the City of Detroit."
Rep. John Conyers (D-Mich.) represents the city where poverty hovers at 40 percent and the unemployment rate is 14.5 percent (the national average is 6.3 percent). He called the DSWD's move "an overzealous and misguided approach to cost-cutting."
"Regardless of the rationale for these cutoffs, the human consequences are unacceptable and unsustainable. The failure to reinstate water service means unsanitary conditions, malnutrition and disease for babies, the sick, and the elderly," Conyers said in a statement.
Now the United Nations has waded into the battle. Several groups appealed to the UN Human Rights Office last week asking for for the organization to attempt a forced restoration of service.
On Wednesday, three UN experts on the human rights to water and sanitation, adequate housing, and extreme poverty and human rights condemned the DWSD's widespread water disconnections. "Disconnection of water services because of failure to pay due to lack of means constitutes a violation of the human right to water and other international human rights," the experts said in a statement.
"Disconnections due to non-payment are only permissible if it can be shown that the resident is able to pay but is not paying. In other words, when there is genuine inability to pay, human rights simply forbids disconnections," said Catarina de Albuquerque, the expert on the human right to water and sanitation.
Groups like the WAVE Fund and the Detroit Water Brigade are working with residents to get them the water they need in the short-term and funding to sustain themselves in the long-term. "We have donations of water that people have sent. We have 30 cases of water," Demeeko Williams, an organizer with the Detroit Water Brigade told RT.
Detroit residents whose annual income is less than 150 percent of the federal poverty level can apply for WAVE assistance. Funds received are earmarked specifically for payment of water and sewer bills for eligible Detroit residents.
But even with help, the UN is concerned about discrimination. "If these water disconnections disproportionately affect African Americans they may be discriminatory, in violation of treaties the US has ratified," Leilani Farha, the expert on the right to adequate housing said in the statement.
You can share this story on social media: