Sikh community furious at Texas authorities after detention on false terrorism accusations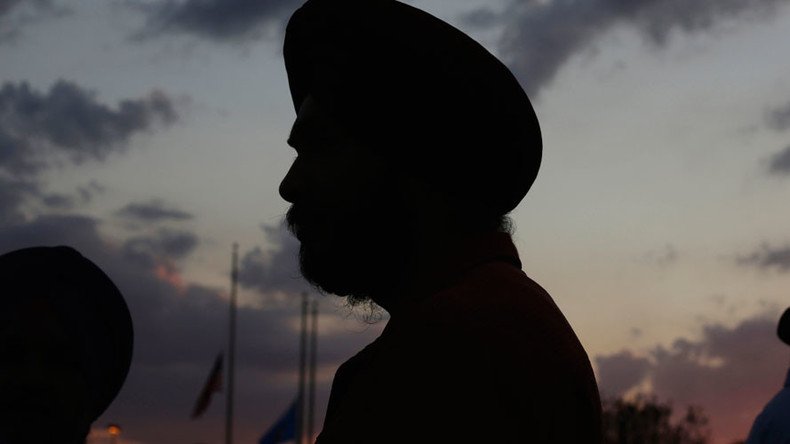 A Sikh man and a Pakistani-American man were arrested at gunpoint after fellow bus passengers claimed they were discussing a bomb threat in Arabic - even though they were speaking Punjabi. The Sikh Coalition has filed a complaint against the accusers.
Daljeet Singh, an asylum-seeker from India, began chatting with Mohammed Chotri, a Pakistani-American man, while the two were traveling on a Greyhound bus from Arizona to Indiana in February. The two conversed in Punjabi.
When a woman on the bus claimed she heard the word "bomb" mentioned in their conversation, she urged the bus driver to pull onto the side of the road. The bus was passing through Amarillo, Texas, at the time.
The driver dialed 911 and two other passengers restrained the men in their seats until police arrived and arrested them at gunpoint, the Hindustan Times reported.
The men were detained for 30 hours and eventually released after being cleared of criminal wrongdoing by the FBI and the Potter County Attorney's Office.
The Sikh Coalition has filed a complaint against the woman, identified as Tianna Lynn Decamp, which urges her prosecution due to the fact that she "knowingly reported a false and baseless bomb threat."
The complaint also urges for criminal charges to be filed against passengers Anthony Lamar Lillie and Kelly Michael Morris, for "unlawfully restraining Mr. Singh on the bus."
"By filing this complaint, we hope to bring attention to the crisis facing minority communities today. The list of things brown people can't do on public transportation is growing — we can't get a can of Diet Coke, we can't switch seats on a bus or a plane, we can't speak in a language other than English, really we can't be human beings," Gurjot Kaur, senior staff attorney for the Sikh Coalition, told NBC News.
Singh said in a statement that the only crime he committed was "wearing a turban, having a beard, and speaking in a different language to another brown man on a bus."
"I still cannot believe that this happened to me in America," he said.
Potter County Attorney Scott Brumley told the Globe-News that he will review the complaint before deciding if any charges should be filed.
The February incident occurred the same month that a Sikh actor, model and designer was barred from taking a flight to New York after refusing to take off his turban. Just two months prior, a passenger on a Delta flight falsely believed a breastfeeding Sikh mother posed a terror threat.
You can share this story on social media: