Aeromexico bans Sikh actor from plane because of his turban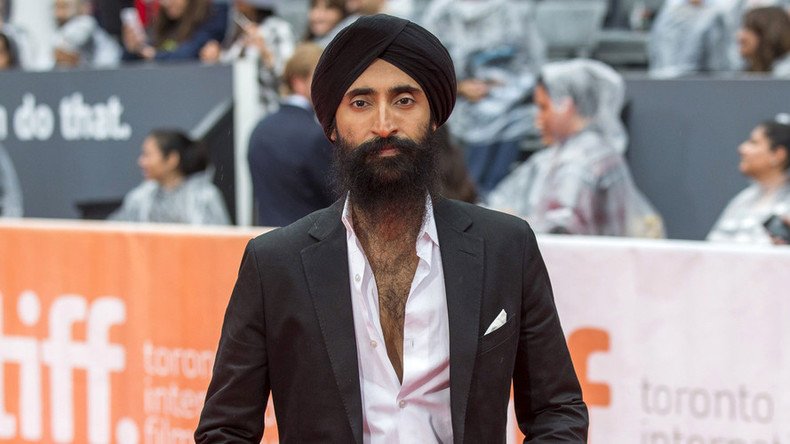 Indian-American actor, model and designer Waris Ahluwalia was barred from taking his flight to New York due to his refusal to take off his turban, a symbol of the Sikh faith.
The actor, who has appeared in 17 movies and short films, including Wes Anderson's 'The Grand Budapest Hotel,' was traveling to New York Fashion Week on Monday when he was stopped at Mexico City International Airport. Aeromexico staff barred him from boarding the plane, saying it was crucial that he removed his dastar – a style of turban considered mandatory in the Sikh religion.
"That is not something that I would do in public," Ahluwalia told the New York Daily News. "That's akin to asking someone to take off their clothes."
Ahluwalia did not agree to remove the dastar without a private screening room, which Aeromexico staff refused to provide. His boarding pass was marked SSSS – "Secondary Security Screening Selection" – meaning additional security was required. The personnel told him he would have to book another flight if he wanted to go to New York.
"I was shaking at first," the actor said. "That's not a nice thing to be told, that you are not allowed to fly on this plane because of something you are wearing, or because of your religious beliefs."
"I've had the magic 'SSSS' before," said Ahluwalia. "I'm really lucky on my 'random' selection."
Thirteen hours later, the actor posted another picture of himself, noting he was still waiting for an apology from the carrier. He decided to stay in Mexico overnight to stand up for his beliefs, demanding that Aeromexico staff be trained properly.
Social media users expressed their support for the actor by posting with the hashtags #StandWithWaris, #FlyingWhileBrown, and multiple others.
The Sikh coalition reacted too, creating posters to spread on the web.
Aeromexico did finally issue an apology on its website.
"We apologize to Mr. Waris Ahluwalia for the bad experience he had with one of our security elements in addressing your flight to New York in the Mexico City International Airport. This case motivates us to ensure that security personnel strengthen its care protocols, always respecting the cultural and religious values ​​of customers," the airline said.
A similar case happened last December, when a Sikh and three Muslims were barred from their flight because their appearance made other passengers feel uncomfortable, media reported. "I thought it was an evacuation or something, so I didn't think nothing of it, but then she told me to take my bags and when I went back into the plane I saw I was the only one standing," one of the four said.
READ MORE: Four New Yorkers sue over getting kicked off plane over Muslim 'appearance'
Another incident involving the removal of Arab-looking passengers happened in Athens, where a flight to Tel Aviv was diverted after an onboard Arab-Israeli conflict. An Israeli passenger loudly demanded that two Arabs be taken off the plane and undergo additional security checks, an Aegean Airlines statement says.
READ MORE: 2 Arab-Israelis booted from Greek plane after Jewish passengers cry 'terrorists'

You can share this story on social media: